By Nnamdi Eseme
Content warning: Please be aware that this blog post might be upsetting for some, as it contains information about the practice and consequences of Female Genital Mutilation (FGM).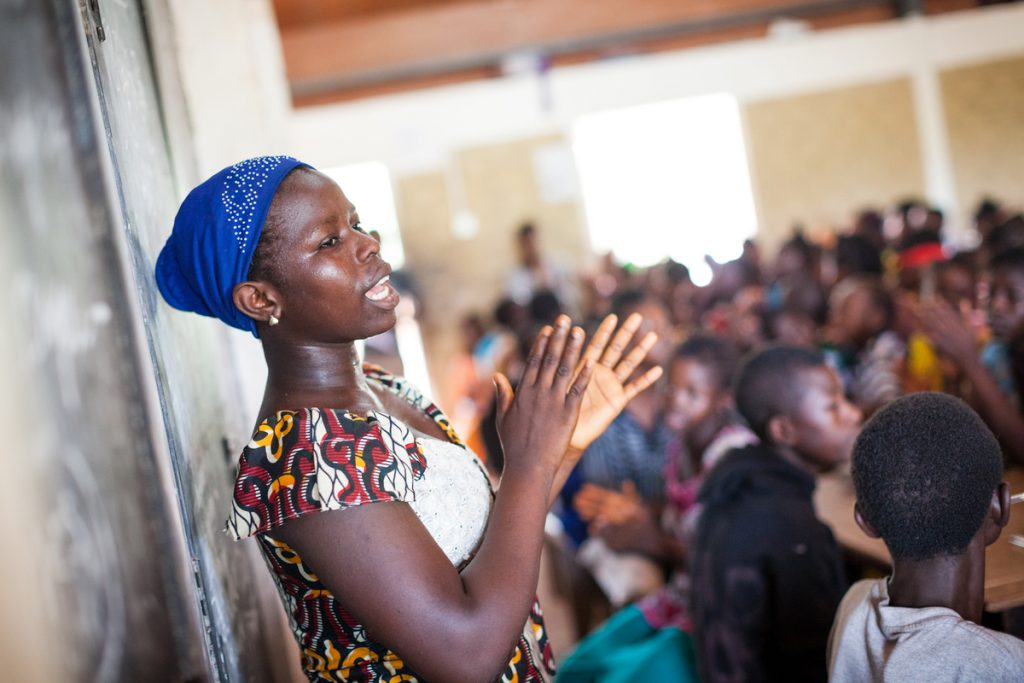 As today is International Day of Zero Tolerance for Female Genital Mutilation (6th February), we asked Nnamdi Eseme, EducAid's Education Programme Officer, to write a blog about FGM in Sierra Leone. Nnamdi brings a great deal of experience to this sensitive topic. Before joining EducAid, he worked as an anti-FGM campaigner, serving as the Nigeria Coordinator of the Girl Generation Youth anti-FGM Forum. He remains an advocate for young people's sexual and reproductive health and rights, especially for women and girls. He has worked towards challenging gender stereotypes and practices that underpin poor treatment of women.
The International Day of Zero Tolerance for FGM
Today EducAid joins the rest of the world to commemorate the International Day of Zero Tolerance for FGM. As we mark this day it is important to question how much progress has been made in ending the practice in Sierra Leone. With 9 in 10 girls cut, Sierra Leone has one of the highest rates of FGM in Africa, according to a report by Thomson Reuters Foundation. The World Health Organization states that FGM is defined as all procedures that involve partial or total removal of the external female genitalia and/or injury to the female genital organs, whether for cultural or any other non-therapeutic reasons. For some cultures, FGM is performed to control the sexuality of women, improve cleanliness, increase the chances of marriage for the girl, or simply to adhere to existing customs. The procedure predisposes women and girls to harmful side effects such as excessive bleeding, genital tissue swelling, fever, infections, urinary problems, and even death. This highlights the need to end the practice.
Many girls in Sierra Leone are cut as part of an initiation into the Bondo Society, which wields huge political power. During the recent cutting season in December, a 10 year-old girl was reported to have died after her FGM initiation into the Bondo society. The girl was said to have just sat her year-five exams when she was rushed off to the initiation. This sad story reveals one of the many risks that girls, who undergo the practice, face. It reveals the importance of relearning social norms through robust advocacy targeted at key influencers, this is key to eliminating the practice in Sierra Leone.
Things are changing in Sierra Leone. In fact, recently the government of Sierra Leone, through Anthony Brewah the Minister of Local Government and Rural Development, banned all activities of secret societies in an effort to curb initiation by secret societies.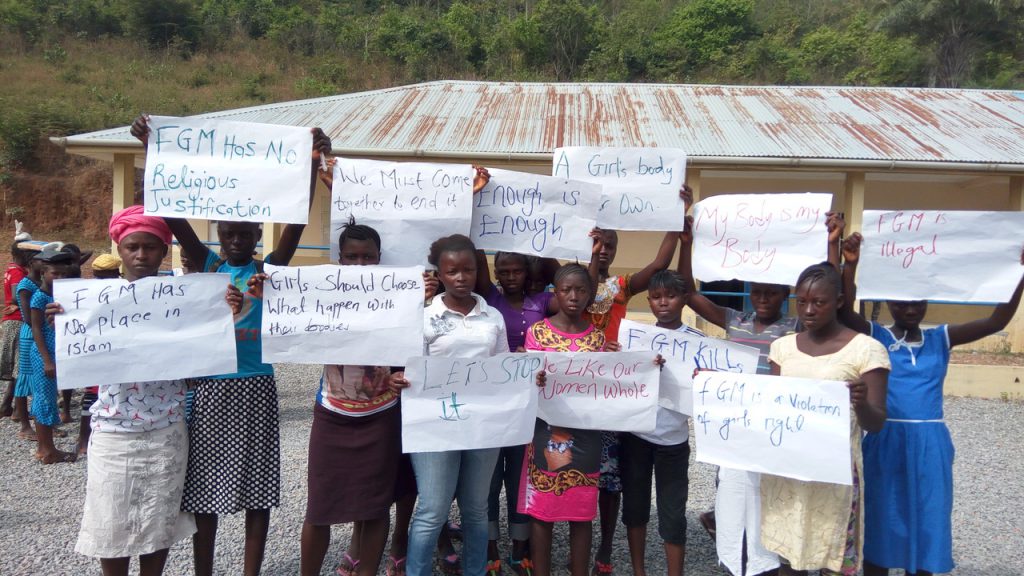 What are organisations doing to end the practice?
Many organisations in Sierra Leone, including EducAid, will be commemorating this year's Zero Tolerance Day, advocacy activities will be aimed at drawing attention at the international and national levels to efforts that need to be exerted to free women and girls from FGM and to accelerate action towards its elimination. This is in line with the UN Resolution A/RES/67/146 on FGM: "Intensifying global efforts to end FGM" adopted on 20 December 2012. The Equality Coordinator of EducAid says that this year's commemoration is apt as it comes on the heels of the government ban on all initiation into secret societies including the Bondo society; the group known to perform FGM in Sierra Leone. In her words: "I will be joining my colleagues to visit several radio stations in Sierra Leone where we will be speaking against the issue and highlighting the dangers associated with the practice. Further, we will be visiting schools to conduct social change communication sessions for both teachers and students, as well engaging the social media to reach out to millions of young people within and outside Sierra Leone to join our movement".
Learning, unlearning and relearning
Despite the harmful effects associated with the FGM/C, many communities still practice this act and see nothing wrong in it. Because young people are predominantly affected, they can help end this practice by:
Engaging in learning about the harmful effects of the practice,
Unlearning social norms inculcated over the years and
Relearning alternative rites of passages into womanhood that do not pose risks to the girl child.
Further, robust awareness campaigns in rural communities in the form of community dialogues, can be led by young people to question the motivations behind the practice and make a case for how cultural beliefs and societal pressure to conform to existing traditional practices put girl children through this excruciatingly painful and medically unnecessary procedure.
Young people have the responsibility of explaining to members of practicing communities, especially the cutters that girls who are not cut grow up to be healthy women and no less female than girls who undergo FGM. This would go a long way in changing the mindset of communities that still practice FGM. For example, Yabom*, a 24 year-old mother of one from Sierra Leone, narrated her experience as a child who underwent FGM:
"When I was 12 years old and in primary school, I had gone home for the holidays when my mother called me one morning to say we would be travelling for a ceremony the next day. I was excited as I liked ceremonies because of the dancing, singing and surplus food always found during ceremonies. The next day we had arrived early in the morning where I found other girls like myself all excited. We waited the entire day but nothing happened. I saw older women cooking and everyone was busy. I asked my mother several times about the time of commencement of the ceremony but she told me not to worry as it would commence the next day. Very early the next day, we were all woken up by the older women who took us to a particular house and we were all cut – the experience was very painful. I wish I had been informed that I was to be mutilated. When I had my girl child, I vowed never to cut her", Yabom said with pain in her eyes.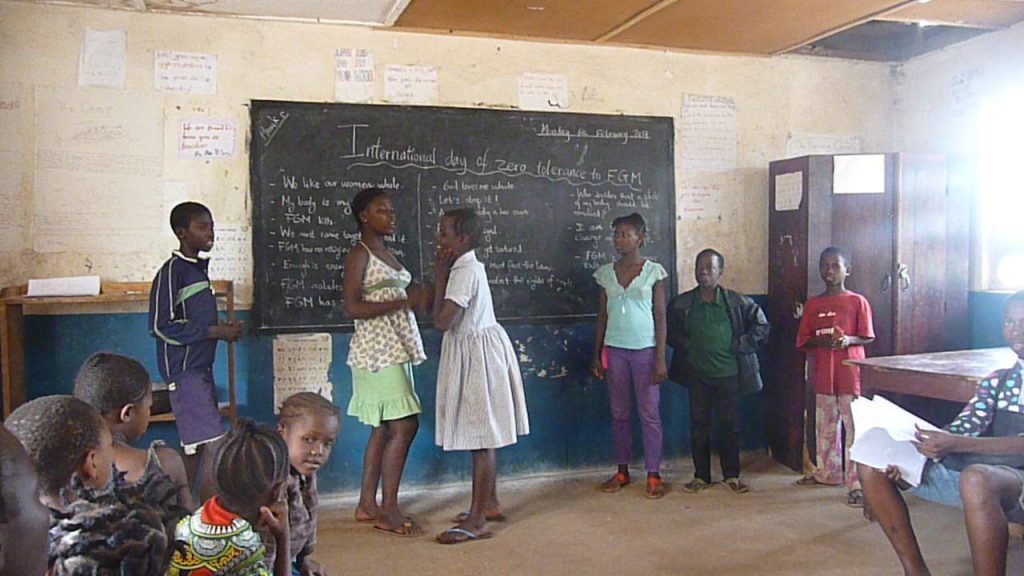 Engaging schools and opinion shapers
To end FGM/C in Sierra Leone, young people must engage with schools to design lessons for students that address the issue. Opinion shapers and key influencers such as religious leaders and media personalities, etc, are also vital in ending FGM. With the diverse religious setup of Sierra Leone, there are several leaders who can sway public opinion with the respect they command. Young people can leverage on this opportunity to call an abandonment of the practice as it affects them.
Additionally, young survivors of the practice can visit schools in practicing communities to engage with in-school girls and boys about the dangers of FGM, sharing their compelling personal stories to drive change.
Calling for anti-FGM laws and policies
For young people to end FGM in Sierra Leone, they need to call on the government to formulate policies with strict penalties specific to FGM. Examples can be seen in Nigeria in the Violence Against Person Prohibitions Act (VAPP Act), in Kenya and other African countries leading the movement to end the practice across the continent. Also, considering the prevalence of the practice the country, large-scale interventions targeted at both local and national level could be implemented as part of the government's commitment to address the issue. Goal 3 of the Sustainable Development Goals says that government at all levels must ensure healthy lives and wellbeing for their citizens, including any practice that negatively affects the health of her citizens, such as FGM. SDG Goal 5 also seeks to achieve gender equality and empower all women and girls, and ending FGM is a critical starting point. This year's Zero Tolerance Day is another reminder why we should end the practice that has put millions of women through the unforgettable painful experience of being cut. Young people can lead the way in ensuring that the practice is abandoned.
*Names changed to protect privacy