I just thought I would share with you about something positive that we have been fortunate to benefit from.
The inspiration of Kate Humble [of Bradt Travel Guides], the www.stuff your rucksack.com website enables goodwilled travellers to go on their travels equipped with the necessary information to make maximum use of the spaces in their rucksacks.
We were the recipients a couple of weeks ago – I am only just picking up on everything now – of an exciting pile of carefully selected dvds and books to get our kids thinking. Thank you Kirsten [inspired traveller]. Thank you 'stuff your rucksack'.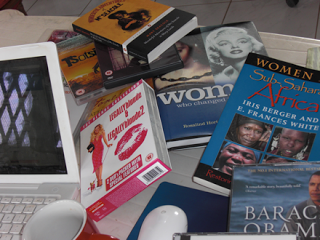 Things to get them thinking!
http://www.stuffyourrucksack.com/find/Recipient.aspx?RecipientId=253