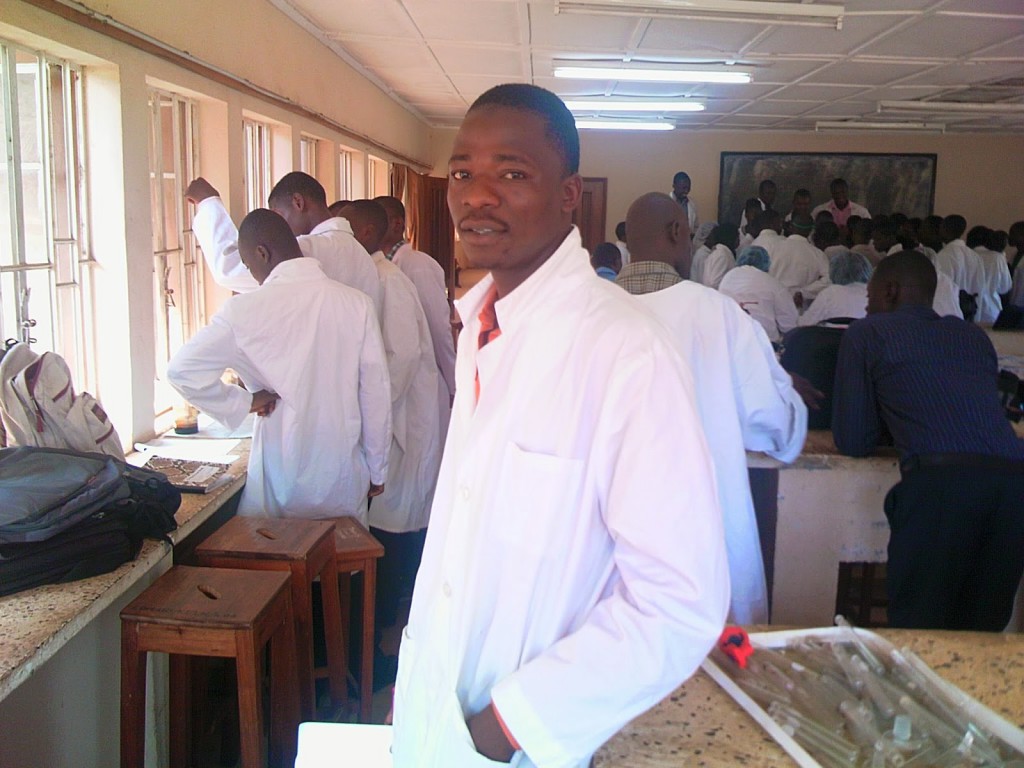 Augustine in his lab coat in class.
Augustine has just got in touch to say that he has received his end of 4th year results from the College of Medical and Allied Health Sciences (COMAHS). He is promoted to his 5th year studies with a credit in medicine!
Augustine came to EducAid, having left school for 8 years from 1995 to 2003. He had been training as a welder and an electrician
informally, when he heard about a new free secondary school in the area. When he first started with us, he was literally sleeping in a disused freezer down the road from the school. Life was far from easy.
Augustine decided to try and become a doctor after a particularly difficult argument with me. He had been given a long list of medicines at the hospital which they said he needed. I looked them up and discarded them as unnecessary one after the other and gave him some paracetomol. He was furious, at the time, and threw them at me. Later, on further discussion, it made him wonder about the qualifications and attitudes of those in the medical profession here and he resolved to do a better job himself, if given the opportunity.
Augustine Bundor's selfie in the 'boys' room' in Lumley.
Today, after many years of struggling with the various challenges of life in the College of Medicine, he is coming up trumps. We look forward to seeing him continuing on his path of success and are very happy and proud that he is one of ours.
All the very best as you continue your studies, Augustine. Congratulations on your successes so far. We are confident in your ability to run the race and to start soon to be part of the fight for better quality healthcare – so clearly a desperate, desperate need.
You are going to have an amazing story to tell your grand-children!
If you are interested in knowing more about EducAid's work with vulnerable young Sierra Leoneans, please go to www.educaid.org.uk