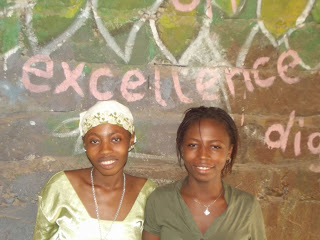 Haja and another teaching colleague
EducAid has been contracted for several years to provide literacy and numeracy classes for the female inmates of four prisons.
Haja, one of our young past pupils, teaches in the Women's Project, bringing dropout girls back into education. She is also part of the EducAid AdvocAid team. She is deceptively slight and dainty. Behind that smiley gentle exterior is someone really strong. The female wing of the prison is not for the faint hearted! It is a tough battle ground for some very hard prison officers and the women inmates.
You can see Haja is doing an excellent job from the rapport she has with everyone from the women to the prison officers. The women are keen to learn and there is a good balance between quiet learning and happy banter in the class.
At the end of the teaching session, some of the women give their feedback:
"Haja makes me feel loved"
"When I feel discouraged about my case, Haja encourages me to continue."
"I have learned a lot from Haja, I can write my name and read small small."
"I like the English best, in fact I like everything about this class."
There are enormous injustices in the system – the women can be imprisoned for months or years without their case progressing. Often, the case is nothing more than struggling to repay a debt on time or something equally petty but they and their families are held in limbo and disgrace as evidence of Sierra Leone justice being done. Thank goodness for AdvocAid and the team of women who provide some positives in the face of the terrible bleakness they experience.