What a great weekend……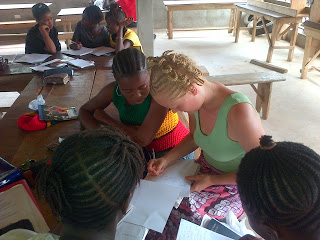 Small group work – thinking through our dreams
for the future of EducAid
It was the second women's weekend, with all the EducAid female staff talking over their progress during the last month, putting together their ideas about how they would hope EducAid will develop over the next 1, 5 and 10 years, role-playing through various decision making, practising public speaking and writing up the 2nd edition of our women led newsletter: EducAid Now etc etc. It was not only great fun but also really inspiring and moving to hear the women's successes in implementing their resolutions made last time and how passionate they are about helping the young women in their neighbourhoods and now in their classes.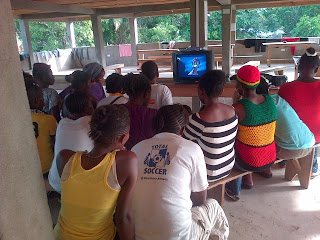 Getting some inspiration from Ginger in Chicken Run 🙂
Writing up the articles to go into the 2nd edition of
EducAid Now!
At the same time, the Maronka kids were participating in an inter-schools quiz. Six schools, including one junior secondary school, assembled in Maronka for two days. At the end, Maronka had correctly answered all its questions and achieved an overall score of 50, leaving the other schools standing – the nearest competitor got a score of 35. It was great to have our methods and approaches validated and for the children themselves to see how well they perform in comparison with others. Some people might try and belittle us, on occasions, calling us a 'poor man school' but they can't beat our education. The children from the other schools all looked fine in their uniforms but their performance did not live up to appearances. Our children were all dressed in their best and shining and they performed with confidence, speaking in excellent English and answering accurately. Staff and students were just delighted and they came away loaded with prizes.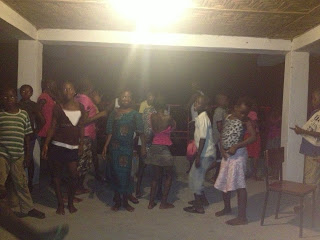 The winning Maronka team, after their evening revision session.
If you are interested in knowing more about EducAid's work with vulnerable young Sierra Leoneans, please go to www.educaid.org.uk and www.sierraleonegirls@blogspot.com