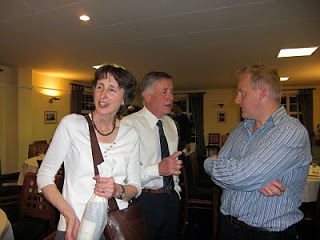 Janet, Frank and Swithun – sorting stuff out. [Looks as if the champagne is in good hands!]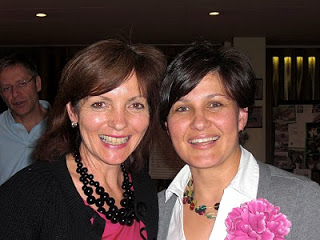 The South African girls: Janet B & Linda D – bringing a touch of style and beauty to the occasion [as well as a lot of hard work behind the scenes].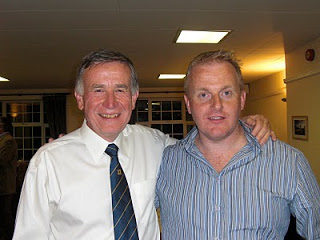 Frank and Swithun – organiser and auctioneer [respectively]

Despite family tragedies for Frank and very serious ill health for Janet, the Langlois team pulled off a fantastically successful fund-raising event for EducAid. A total of approximately £6,500 was raised between the golfing and the auction. While they express their thanks to others who supported them, we are truly grateful for all they did, putting aside their own personal difficulties, to make it happen. This sort of figure has a significant impact on EducAid's finances. Many many thanks to both of them.
From Janet and Frank themselves…………
The EducAid Muswell Hill golf club – EducAid charity golf event on Friday 14th May was a great success. A friendly morning with demonstration and putting competition, with club professionals, followed by enjoyable afternoon golf, leading into an evening of prize-giving, meal and generous fundraising at auction. Despite players visiting from all over UK, the winners of the competition were Muswell Hill members! We enjoyed smooth organisation all day due to valued, committed help from club staff and members. The event raised more than £6,000, but more importantly brought EducAid, and its work, to the attention of a large number of people who had not previously heard of the charity. It is hoped that a number of these people will support the charity in the future.
We sincerely thank EVERONE for all the support we received.
Frank and Janet Langlois.