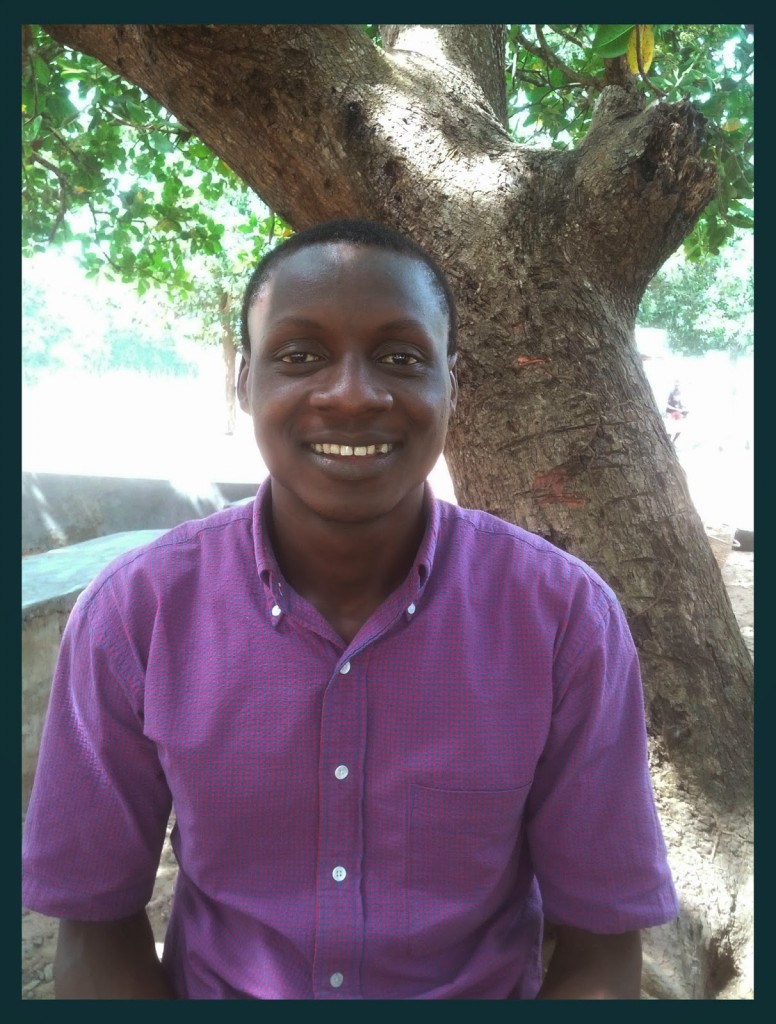 Mohamed Anthony Kamara, and ex-EducAid student and current EducAid staff.
Last week I was speaking with one of the site coordinators, Alhaji Kamara, better know to those in EducAid as AA. I asked him whether there were many Ebola survivors close to the EducAid compound, and if there were any that he thought would be comfortable to speak with him about their experiences.
"We have not got any survivors directly in our midst", he replied. "Sometimes it is difficult to speak with them, especially when they know you are from an NGO. At the same time they just ignore any form of questioning because they don't want to be reminded about the dreadful disease or pains they went through. Nevertheless, I interviewed Mohamed Anthony Kamara who was a former EducAid student but currently he is a staff.
He lost four direct family members, confirmed Ebola cases. According to him, the two parents were the figureheads for the family. Follow his story below. I hope that this will be interesting for those people who are reading the blog to understand more about the times in Sierra Leone."
Read AA's interview with Mohamed below.
Tell us your name and where you are from?
My name is Mohamed Anthony Kamara. I'm from Romeni Village Bai Bureh Konteh Maforki Chiefdomin the Port Loko District. It is the chiefdom where Bai Bureh, who fought the Hut Tax war in 1898, was buried. It is well known for the historic warrior who revolted against the British imposition of tax on their houses.
With whom did you live before Ebola, who lives there now?
I was residing at EducAid and still with EducAid. I have been away from Romeni Village for 7 years and I seldom pay visit.
Have you lost any family or friends to Ebola?
Yes, I have lost: my uncle, my uncle's wife and their two little children. They all died in a week but I have an aunt who survived. I was not allowed to visit their funerals. I felt so bad because it has been a tradition that when a family member passed away, all pay visits to sympathise with the bereaved family. But it is well know that visiting funeral homes is one way people contract the disease, so I realized not to attend because it's all about risk. I was very scared of catching the virus from them.
You told me the two parents were the breadwinners for the family. Who is taking care of the family? Are they getting support from concern organisations?
It is the major problem for their five children that have been left behind, but other family members will just have to share them. They have not received any form of help from an organisation.
How have you avoided catching Ebola? Where did you learn these techniques?
I follow and keep to the preventive methods that I have learnt from EducAid Ebola sensitization meetings and the Ministry of Health and Sanitation. They release posters, jingles, community sensitisations, radio programs etc.)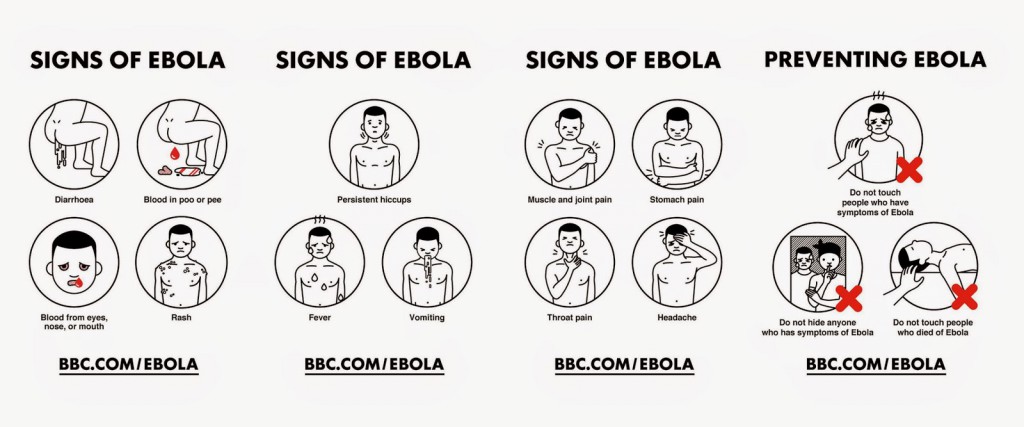 EducAid helped me by restricting my movement, providing antiseptic such as chlorine, and Miriam and coordinators' monitoring and ensuring that we keeping to the precautions mentioned.
If I was not in EducAid, I think that I would have been involved in isolating the sick, reporting sick people in my home or area/community and restricting my movement to try to keep safe. Also by avoiding any form of body contact. But I believe EducAid had greatly helped to keep me safer than being out of this unified family.
What are the biggest challenges that the country faces regarding Ebola?
EducAid is massively doing a good job – more for their size than any other concerned organizations are doing to breach the transmission rate. Unfortunately there is much to do, especially:
· Maintaining the Health State of Emergency and avoiding public gathering, movement from quarantined/isolated areas to non quarantine/ isolated areas etc)
· Removing the traditional beliefs and practices such as washing dead bodies before calling burial teams for burial, visiting funeral homes and associating unconfirmed death to witchcraft.
· Providing enough food for quarantined homes and isolated chiefdoms/districts
· Change the attitude of certain Sierra Leoneans. People don't consider Church, Mosque, Market, court as similar gatherings to that of schools, institutions and universities that are not allowed to operate. These should also be closed to stop Ebola.
How are you helping in the fight against Ebola?
I have been working with the Ebola sensitisation teams in the following:
· Sensitizing community members, family members
· Reporting sick person/s
· Keeping to the avoidance rules
………………………………………………………………………………………………….
Mohamed's story shows just how close Ebola is to EducAid. When the first reports of Ebola were appearing, and Miriam returned to the UK at the beginning of the year, I remember her saying that the virus is far away. "None of us know anyone who is suffering from Ebola."
Now, however, the case is very different. The proximity is not only physical – at Lumley and our Port Loko schools we are literally surrounded by the virus – it is an emotional drain on our staff and students because now everyone knows someone who has been directly affected.
I spent some time yesterday analysing the data that has been published by the Ministry of Health for Sierra Leone, and I found it to be particularly worrying for us.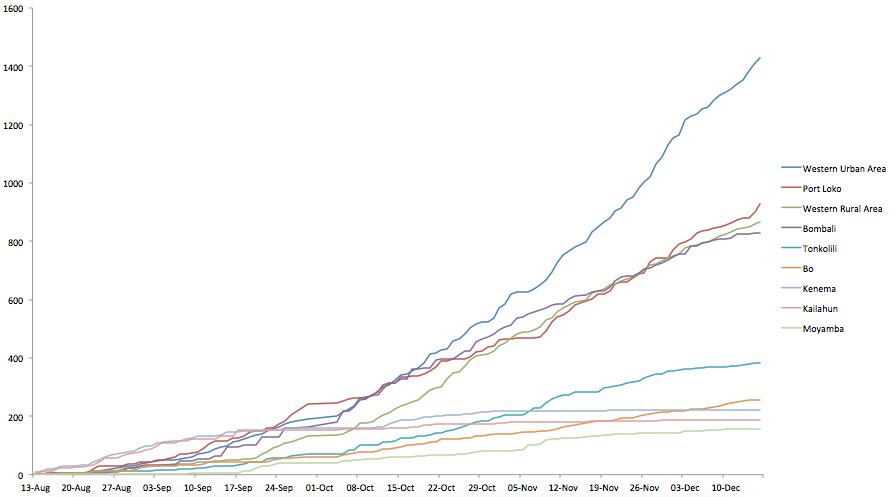 We have 1 school Freetown, the Western Urban Area, and we have 2 schools in Port Loko, the region with the second highest number of cases in the country. It is only testament to the tightly orchestrated protection of our sites by Miriam and our coordinators that has ensured that we stay safe.
Until now, that has been good enough. However it has become clear both to us, and the international aid community, that the isolation and observation of potential Ebola sufferers needs to be done on a proactive and local level, rather than a reactive regional level. As explained in a post yesterday, this is to identify and segregate those who are potentially ill before they have time to show symptoms and further infect others. We believe that we are in the perfect position to do this, and have begun to prepare to do so.
As always, we need your support to keep doing what we're doing. You can see the value that we bring every day.