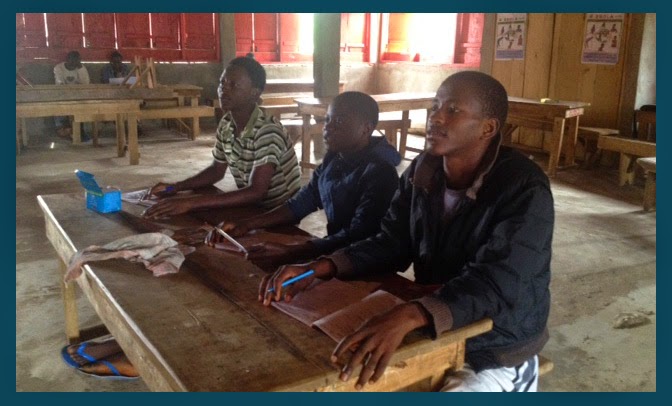 Sillah, sitting in the middle, with two of his new EducAid friends. He is 14 years old and attended Christ The King School in Bo before Ebola struck.

At the beginning of the summer holidays, Sillah travelled from his school in Bo to Moyamba Junction, about an hour and a half journey South East by road. Sillah made the journey so that he could spend the summer holidays with his family.
Unfortunately, his pleasant family summer was not to be. When the 3 day lockdown was declared, his father, a pharmacist who used to pay for his schooling, was asked to be a volunteer for sensitisation. On arriving at the care centre, however, it was clear that there were insufficient people for the burial teams, and he was asked to join. With the will to help in any way that he could, Sillah's father joined the team, and was tasked with the most dangerous job of collecting and carrying the bodies from their final resting place to the grave. Typical of the early-response health services, he was not provided with adequate training or the proper protection. A couple of days later he got ill.
Sillah took his father to the hospital, and 2 days later the rest of his family were all quarantined: his mother, 3 sisters (1 yr 7 months, 10 yrs, and 16 yrs old) and 1 brother (12 yrs old). On the 17th day of their 21 day quarantine, the whole family fell ill and were taken to the hospital. The Sesay family were crowded in to an overfilled care centre, and only Sillah and his mother managed to survive.
On being released from the hospital, Sillah spoke with a journalist at Moyamba Junction and expressed his worries about not being able to afford to continue his education. This journalist suggested that he should get in touch with EducAid, and pointed him in the right direction.
We welcomed Sillah in to our home 2 weeks ago. He is still very emotional; the pain of losing parents and siblings in such a quick succession must be a terrible thing, but he is settling in well and getting on with his studies.
Miriam notes that "he is generally amazingly cheerful and has thrown himself into being part of things: football, wood collecting, learning, cooking, whatever it is. His maths had been rather neglected in his previous school, but he is tackling it well now. He has a quiet confidence. He will do well"
And we hope all the best will come to Sillah. We feel fortunate to be able to provide an education and a home for these children.
Those of you that have visited our schools in Sierra Leone will know how tight-knit our communities are, and how much love there is to go around. That is one of the unique things about EducAid: we provide an education and a home.