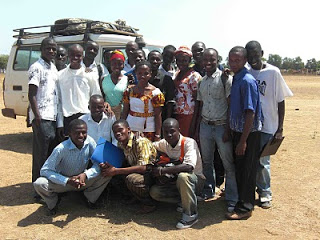 21 EducAid junior teachers [all but 3 are ex-EducAid students] ready to start their new course.
This week, we did the final stages of training the Port Loko Teachers' College tutors and now the distance education pilot has started there. Only 40% of teachers in Sierra Leone are trained and qualified so there is a desperate need for training. However, it would be even worse in schools than it already is, if all the untrained teachers were withdrawn in order to get them up to speed. The solution: a distance education programme with residential sessions during the school holidays. EducAid is supporting the piloting of this new course in the Port Loko Teacher's College and has 21 youngsters joining the programme. There are 100 student teachers overall and we are optimistic that through this programme the quality of the education on offer in the schools in the area can be dramatically improved.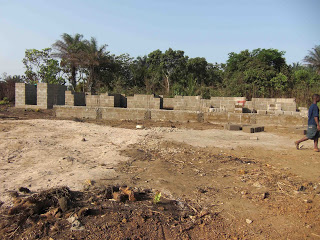 The new Rolal staff quarters are nearly to wall height.
In Rolal, we are trying to beat the rains and hope to finish this stage of the construction by May or June. I say 'this stage of the construction' because we plan to concrete rather than roof at this point, leaving the possibility of another floor when we have the funds for expansion. We have a junior secondary school on the site. This is the new senior secondary school. We hope that, in time to come, this will become a centre of excellence where teachers from all over the area will be able to come and spend a few days each year for refresher courses in methodologies as well as subject content which is poorly covered at present.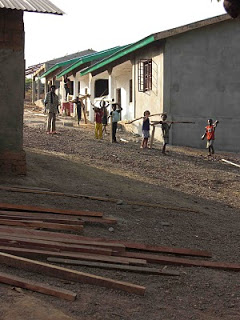 Maronka happy helpers with their new school building.
In Maronka, Forut have a target. They are to hand over the building by 10th March in the presence of some of their donors so they are pushing hard. In reality, Forut provide the technical advice and the materials but it is the community that have built this school. It will be an excellent facility and again, we hope to have it be a centre of excellence for primary training as soon as we are able. The needs at primary level are enormous and the current quality of provision, countrywide, quite scandalously low.
If you are interested in knowing more about EducAid's work please go to www.educaid.org.uk