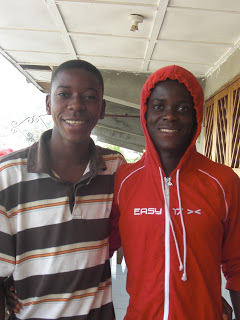 Yahyah Kamara and Musa Bundu, both 19 on 1st January 2011. Yahyah is head boy and Musa is his deputy. Delightful and highly intelligent boys, they are also products of the EducAid Magbeni Junior Secondary School.
Why do we carry on battling against the odds in a community as difficult as Magbeni? Yahyah and Musa are examples of the answer. Musa's older brother Ibrahim Bai Bundu and his friend and colleague Foday Kargbo are two more. These two, having finished their senior secondary exams at EducAid Lumley are now teaching back in Magbeni while pursuing a distance teacher training course. Bai Bundu shared equal first position in their first year exams last week.
We wish Yahyah and Musa happy birthday and a very positive 2011. May they continue to be an example to all their younger colleagues following in their footsteps, using education to climb out of poverty.
If you are interested in knowing more about EducAid's work with vulnerable young Sierra Leoneans, please go to www.educaid.org.uk