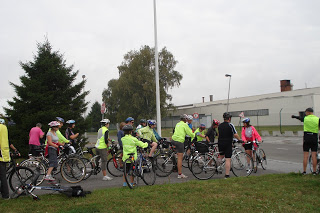 Heading off from a re-sugar pit-stop.
What a weekend!
49 cyclists of all levels of stamina, fitness and map reading ability! The miles grew as the days went by and a breakdown of 65, 85 and 40 miles over the three days, gently extended themselves into 77, 98 and 43 and the figures do not even begin to conjure up an accurate picture of the physical ordeal undertaken. There was a hideous headwind which meant that even going down hill we were pedalling and only managing 7 or 8 miles an hour at times. We found probably the most corrugated bits of Europe through which to cycle so every time we got to the top of one hill we could see the other up-coming summits beckoning in the distance and to top all of this we had mountains of cake and flapjack to work our way through! Quite amazing and very impressive were the youngsters in the group: the fourteen year olds who flew up hill and down dale with apparent ease but who dropped asleep between courses at supper!
Comical moments included when poor Georgia, innocently re-sugaring after a long series of hills, suddenly let out a howl of indignation when a very indifferent dog walked up to her and peed up her leg! and when happy chatty Max, happily chatted his way straight into a bollard with a signpost on top of it, moments after Rudi, the guide, had warned us about them and then finally as we staggered off the Eurostar at St Pancras like, as Swithun pointed out, something from the 'Ministry of Funny Walks'.
Maybe more impressive than the physical achievement though [although definitely not to be belittled!], were the many kindnesses shown: those, who capable of much greater speeds, plodded at the back with the slower ones and raised morale with jokes, chat and the occasional push; those who cooked the fantastic cakes and sugar fuel for the numerous pit-stops; those who entertained an inexhaustible Kofi, the ever smiling support teams and the extraordinary, omnipresent, problem solving Broadhursts.
For me, the physical stuff was way beyond my fitness levels but considerably harder was Alhassan's absence. The funeral and the memorial service were impossible, unreal events that should not have been happening anyway. The bike ride was something he was excited about and proud to be doing. The absence, therefore, of his enjoyment of what would have been his first trip into Europe was painful beyond anything yet.
I understand that most of the cyclists had, alongside the training, got pledges of quite significant amounts. We hope to have raised a good chunk of money [the final figure is not yet known] towards day to day expenses in the projects in Sierra Leone. While I have been in refuge back in the UK, much has happened in Sierra Leone. The summer school has been and gone. The staff have tested hundreds of potential new students. [We become each year more shocked at the deplorable standard of the students coming to us from the nearby primary schools!] Remedial classes have been put in place to avoid turning so many away. And finally, the supplies for the new term, which started today, have been distributed to all locations. The needs are never ending.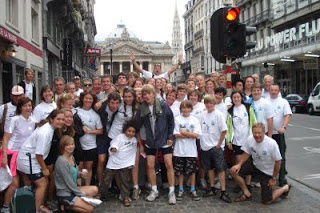 Triumphant on arrival!
A fantastic job done by all involved: organisers, cyclists, supporters, drivers, cooks and more. Thank you all! Thank you on behalf of the EducAid family in the UK and thank you even more from the youngsters in Sierra Leone to whom you are giving the invaluable and life-giving gift of education.
Anybody who wishes to sponsor us and who has not yet done so can find all the details by following this link: https://www.educaid.org.uk/EducAid_Sierra_Leone/Donate_to_EducAid.html
If you do make a donation on-line, please could you notify James Boardman or me on miriam@educaid.org.uk or james@educaid.org.uk for tracking purposes. Thank you once again.
For more information about EducAid, please visit www.educaid.org.uk