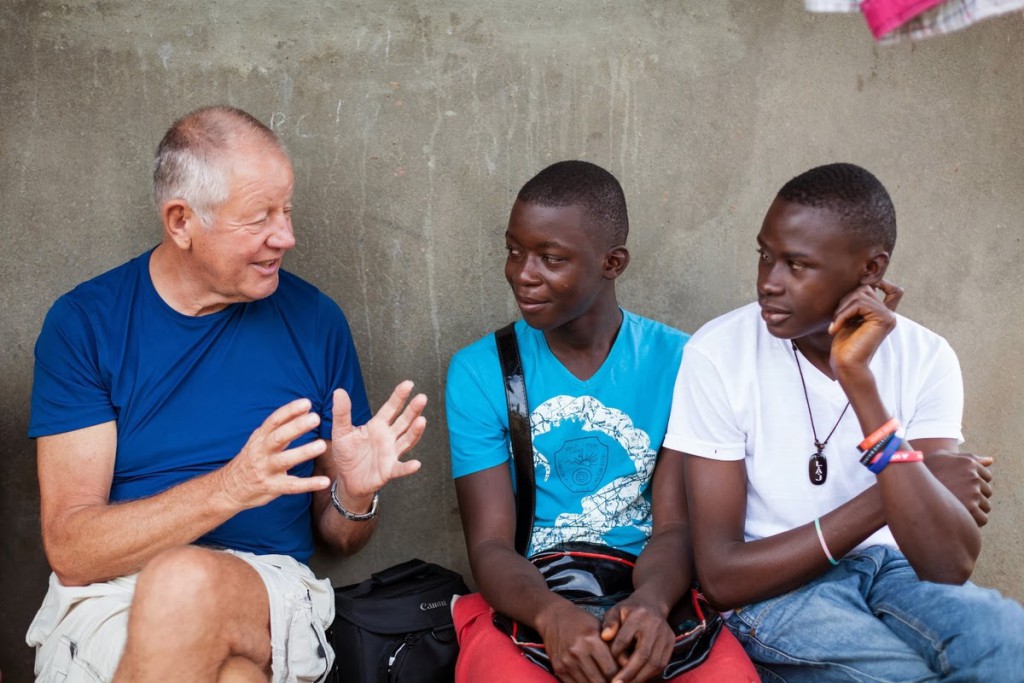 Patrick Horn is a regular visitor to and supporter of EducAid. He was with us at the end of last year and here is his write up in his own words in the Parbold Church newsletter:
I spent three and a half weeks living in three of the EducAid Schools in
Sierra Leone during October / November, 2013. Whilst there I worked with
staff of four schools on developing their extended writing skills, and spent
most of the time working with the staff and learners in the Womens'
Projects. I was able to work with the girls on both their English and Maths;
it is humbling to see how keen they are to learn.

Each of the EducAid Schools has a Womens' Project. The Projects have been created to enable older girls, who have missed education during the early part of their lives, but who have joined Educaid as older students, to
learn to read and write in English and to develop Mathematical knowledge to the degree that they can
thrive in the main school and continue a 'normal' education. It is amazing that most of the learners
already speak their local language, then speak Krio, the language used throughout Sierra Leone, and
then are taught in English. Some of the learners tried to teach me Krio, and that brought home to be
how difficult it is to learn another language, and to be able to teach and learn in another language is a
great credit to the teachers and learners in the EducAid Schools.

I was able to introduce a Phonics programme to both staff and learners, and I am currently working, at
a distance and through emails, with the staff to produce a system whereby the progress of learners
may be recorded, and successful teaching practice replicated. The Phonics programme was bought
with the support of Oxford University Press, who gave a considerable discount on the purchase. This
enabled me to have enough materials to support four of the schools. The problem remains that when
the girls are able to read, there are insufficient books for them to read, and this will be my next
project, subject to Miriam's approval, of course. Miriam is, as you will remember, the country
Director of EducAid, and was awarded the MBE recently – she still speaks to me !!

The number of learners within the EducAid Schools continues to increase. Last year there were 1,500
learners; this year there are 2,000. This raises many issues, not least the funds required to feed all the
learners, many of whom live in the schools.
There are many developments at EducAid since my last visit. At one school, Maronka, the roof blew
off one of the spaces where the boys sleep, and there is work going on, as funds allow, to build a
larger space. In Magbeni School there are fifty girls sleeping in a room originally built for fifteen, and
the Headteacher and the staff are busy seeking support from the local community to build an
extension. Whilst I was there bricks were being made from sand taken from the river, and donations
of cement and food were being made from the nearby villages. They are helping themselves as much
as their resources allow, and sometimes beyond.

A very significant development is that the staff of the Maronka school are now organizing and
running training courses for teachers of the state schools in Sierra Leone, and in this way, helping to
improve the quality of education throughout the country. There are early plans to develop a further
education college to continue education to a higher level, and to introduce more creativity into the
learning and individual development. Nothing stands still in EducAid !

Everyone at EducAid made me so welcome during my visit, and are keen to learn about England and I
was able to tell them a little about Parbold. They are all very appreciative of the support given by
people in England and strive to make the very best use of all they are given.

I met one teacher in Magbeni School who started as a student then returned as a teacher. He is paid
very little, and works in challenging circumstances. He was offered a post in a Government
Department at five times his EducAid salary, but he told me that he did not take the post as he 'wanted
to work in EducAid to repay what EducAid had given him, and to help create better opportunities for
everyone in Sierra Leone'. Absolutely amazing.

I have photographs and videos I made during my two visits to EducAid in Sierra Leone, and would be
pleased to show them to anyone interested.

Pat Horn
Thanks for everything, Pat!
If you are interested in knowing more about EducAid's work with vulnerable young Sierra Leoneans, please go to www.educaid.org.uk