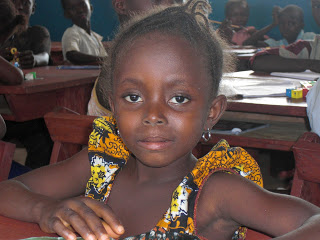 Mabinty, in class 4, will be able to sit the exams under
EducAid Maronka when she gets to the top of the school.
In the early days, I had to try and register some of the schools. I went to the Ministry of Education zillions of times. I filled in the forms to have them 'lost' three times. It was made clear that if I had no little (or big) envelopes for those concerned with doing the stamping and signing, I could forget it. In fact, I was even threatened with being fined for running illegal schools! After five years of being treated like a complete idiot because I would not bribe, I eventually had break through when the government changed and the new minister wanted to be seen to be doing good things. I nearly cried when I was handed the exam centre numbers – the evidence of our new legal status.
Recently, we have had to get some further EducAid sites registered. My heart sank at the likely game playing and time wasting I was to face. I did waste 1 year hoping that the then Deputy Director of Education for Port Loko was doing what he promised but……….
However, I was given the opportunity, in September, to meet the First Lady of Sierra Leone, Mrs Sia Koroma, when she was travelling through Lungi when I was there meeting somebody and she told me to come back and meet her in her office so she could help me. She has! Her little note to the Minister has opened the doors of the ministry and within 1 month of completing our application forms for the registration Rolal Senior Secondary School, Rogbere Junior Secondary School and Maronka Primary School are all registered and have their official legal exam centre status. The kids will be able to take public exams under their own centres and not be removed to another part of the country.
What an enormous relief!
If you are interested in knowing more about EducAid's work with vulnerable young people, please go to www.educaid.org.uk and www.sierraleonegirls.blogspot.com