With Jane's enthusiastic leaping about and charging round the village, with the Sparrows class, we are quite surprised she has only lost her voice!
Jane Harris, criminology lecturer from the UK, has been in Maronka for three weeks and is settling in well. She left her academic work so that she could 'get her hands dirty' and she is as good as her word. Nervous that she would not have the requisite skills when she joined forces with ABJ, the sparrows class teacher, to teach the little ones their letters and sound, she has quickly found her feet and realises that she has lots and lots to offer.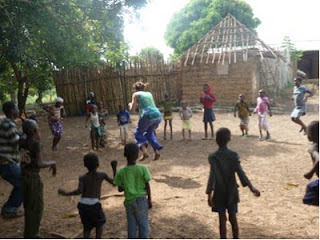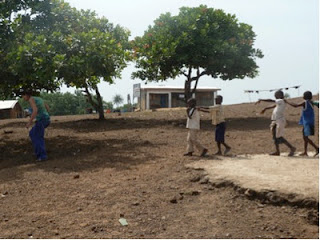 Not only has Jane been teaching phonics but has realised that she can do very important work even training them in following instructions and simple following of routines.
A big thank you for all her hard work. It is greatly appreciated.
If you are interested in knowing more about EducAid's work with vulnerable young Sierra Leoneans, please go to www.educaid.org.uk and www.educaidsierraleone.blogspot.com