EducAid has been running its own schools for just over ten years in Sierra Leone. The challenges, hurdles and blockages have been enormous. So many of those we expected to help us, actually made life more difficult. It is hard to not assume that, in a country where providing education is a business not a mission or a passion, we were viewed as unnecessarily disrupting the status quo by providing free education to the poor.
We have always tried to keep in line with the demands of the Ministry of Education but we have found few reliable friends there over the years.
Of late, though we have found a real partner in development. Mr Sankoh is responsible for the entire ministry of education in the northern area and has proved himself time and again over the last couple of months, for no reward, as a solid friend of EducAid but also of education and of young people.
May he live long to achieve all he dreams of for the young Sierra Leoneans he seeks to help!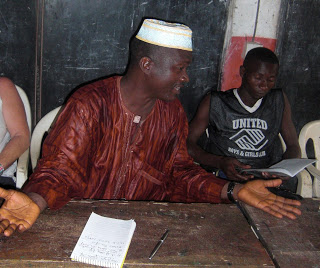 Mr Sankoh, Deputy Director of Education, pleading with the Magbeni community to change their attitude towards female education and girls' and women's rights.
If you are interested in knowing more about EducAid Sierra Leone's work with vulnerable young Sierra Leoneans, please go to www.educaid.org.uk