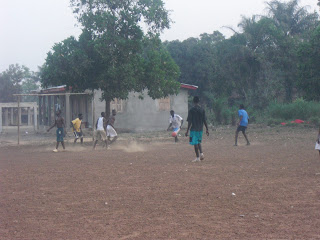 A spot of after class down time.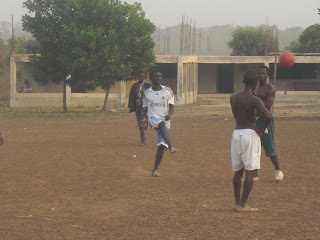 The Junior staff spend their school holidays in teacher training classes but relax a little with a football at the end of the day.
A year ago, EducAid began supporting a pilot distance teacher training course in the Port Loko Teachers' College. Currently, only around 40% of teachers in Sierra Leone are trained and qualified. The idea of the course was that some of these would be able to access training without having to leave their jobs. While supporting the pilot through training the lecturers in new teaching skills based teaching methodologies and providing the modules for all of the 70+ students we have sought sponsorship for 22 of our own teachers.
19 of the 22 are our junior staff, i.e. our former EducAid students who are teaching back in our schools but have not finished their own training yet. This has been a wonderful opportunity for them and they are now putting back into the system with far greater competence and confidence as well as developing themselves.
In the end of year exams, all the EducAid backed students shone. 9 got division one and the remaining 3 achieved division two. There were 3 in joint first position, 2 of them were EducAid students.
It has maybe taken Port Loko some time to take EducAid seriously but that is changing slowly. They are being obliged to now. We don't have the hallmarks of success that are traditionally valued here: uniforms, painted walls, big loud sports days and thanksgiving ceremonies. We do, however, beat all the other schools in the area every year in the public exams. We are praised for the excellent behaviour and standard of our students every time we take them anywhere on a visit. We are always commended by the public exam invigilators because our students are well prepared and can work constructively until the end of the allocated time without cheating. We are now making our mark at the college level too. We are seeing youngsters born into poverty finding a way out through education.
Congratulations to all! A fantastic achievement for your own development and a wonderful way of preparing yourselves to be part of rebuilding the country. Keep it up!
If you are interested in knowing more about EducAid's work with vulnerable young Sierra Leoneans, please go to www.educaid.org.uk