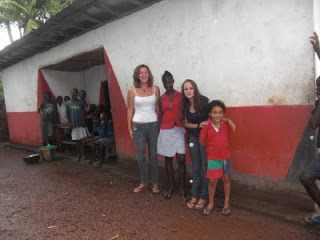 In height order…Flex, Alice, Becky and Kofi.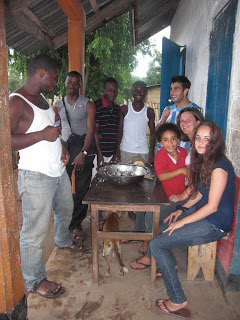 All the rice is gone anyway!
Flex and Becky have got stuck in to life in Magbeni. Although the staff and students are very welcoming, it is not as easy as it sounds. Magbeni in rainy season is even more cut off than it usually is. There is no internet connection and no phone coverage unless you trek up the hill half an hour. The 5 mile long road from the tarmac main highway is a muddy track which is all but unpassable in anything other than a 4 x 4 for great stretches.
James Burnford is a returnee, having spent a term in Magbeni last year. He too is back into action and apparently enjoying all the challenges once more.
They are working hard with the provisional exam group, the Women's Project and as many others as they can squeeze in. Most of their attention goes on literacy but there are opportunities for creativity with murals on the classroom walls, drama productions and talent shows.
They are doing a great job and are very much appreciated by all. Shame [from our point of view at least : )] that they won't be staying for longer!
If you are interested in knowing more about EducAid's work with vulnerable young Sierra Leoneans please go to www.educaid.org.uk