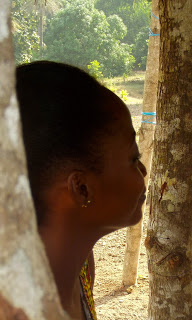 Isata contemplating a future in development work and communication.
The tertiary education options in Sierra Leone often leave me feeling almost desperate. We preach a message of destruction of inequalities through education but in practice we find that the right connections and the willingness to pay on the side is what really makes it possible to make progress at tertiary level. Our students, not having access to either short cut, are seriously disadvantaged, not that we would want them to use those means but we do want them to have equal access to progress and get the grades they deserve when they study hard.
Yesterday, a small delegation went to visit the University of Makeni, UniMak. What a difference! Their reputation is indeed in strong contrast to that of all other tertiary institutions in the country but it was great to see and get a feel for the place for ourselves. UniMak is run by the Roman Catholic Church and seeks to give good quality education to poorer people and to have an ethos that tackles the daily corruption that suppresses progress in the country. Sound familiar? It felt like meeting EducAid's big brother. There are fees to pay but they also seek scholarships for needy cases when they can. A lot of energy is going into improving the facilities and getting good quality lecturers and making sure that the education provided is of the highest standard possible.
We really hope that this will become a good solution for many of our young people who gain sponsorship into tertiary education. It is not encouraging to get sponsors to may for something that will never be forthcoming in full because of corrupt systems. If our students get in to UniMak we are far more confident that sponsors will get what they are paying for. Hopefully, Isata, currently working in the Girls' Safe House, will be one of the first to put this theory to the test. She seemed excited by her findings yesterday and will confirm her choice in the next few weeks. The prospect of doing Development Studies with a possibility of working with the local radio station as part of her course had her beaming with delight!
If you are interested in knowing more about EducAid's work with vulnerable young Sierra Leoneans, please go to www.educaid.org.uk or www.sierraleonegirls.blogspot.com