The WASSCE results are out.
Sierra Leonean students sit NPSE at the end of primary school, BECE at the end of Junior Secondary School [Key Stage 3 equivalent] and WASSCE at the end of Senior Secondary School [i.e. university entrance qualifying exams].
In general, the pass rates across the country are more than dismal. On average, countrywide, 40% pass the BECE and only 17% of candidates achieve a pass in the WASSCE. It is against this background that we are able to proudly announce that, once again, 100% of EducAid's candidates have passed their WASSCE. [We are still waiting for the BECE results.]
The reason we are particularly proud of this persistent achievement is that our students are youngsters who are, in every way, fighting on the back foot. Most of them pursue their education against a back drop of really difficult family and home circumstances. Most of them have had several years out of education for lack of fees, because of the war or due to other family priorities etc… Most of them know that, without an education, their chances on controlling their own lives are almost zero.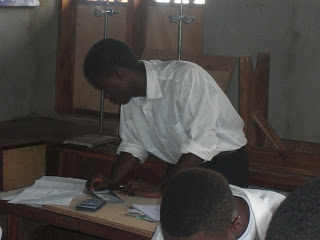 Yahyah, thinking his way through his physics practical exam. All well worth the effort today as he receives the good news.
Yahyah A Kamara's result is especially noteworthy. He has achieved 9 credits out of 9. A fantastic achievement! We wish him every success in his future endeavours and we very much hope that it will be possible to find sponsorship for him to continue his studies. He is at present serving as a junior member of staff in one of the EducAid schools and is helping other youngsters access meaningful education.
If you are interested in knowing more about EducAid's work with vulnerable Sierra Leoneans, please go to www.educaid.org.uk