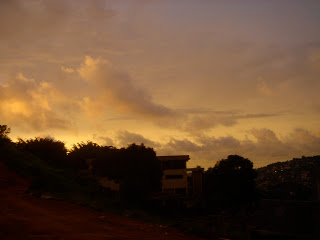 Sheku Turay, 20, disappeared from the Freetown school a few months ago and after many enquiries we eventually found that he was staying with a distant relative and was seriously ill in the Magbeni community.
He was losing weight dramatically but had only been treated with local medicines. AA, the lead teacher in Magbeni, intervened and got him to a hospital about an hour away and after four days of battling to be seen by a doctor, he was finally placed on the anti TB drugs programme which is free in Sierra Leone. Apparently, it was too late. 5 weeks later, he is no more, having died this morning in the TB hospital in Lakka.
This death is completely needless and marks once more the terrible lack of basic medical know how in Sierra Leone. A totally treatable and curable disease with free drugs has now killed two of our students because the medical personnel seem to resist diagnosing TB.
Around the same time, Bockarie Tamu, now a tertiary student sponsored by friends of EducAid was experiencing similar symptoms. But for the timely intervention of a British doctor who saw his chest x-ray and advised TB treatment, he would probably be in the same place as Sheku. Bockarie's doctor, supposedly one of the most experienced and best in the country, diagnosed pneumonia and nobody dares gainsay an old experienced doctor here. Thanks to the intervention and assistance from elsewhere, Bockarie is now significantly improving. He had more or less given himself up.
We pray for Sheku and for the repose of his soul. We pray for the consolation of his friends and family. We pray for Sierra Leone and her people that they may emerge very soon from the darkness of ignorance and poverty.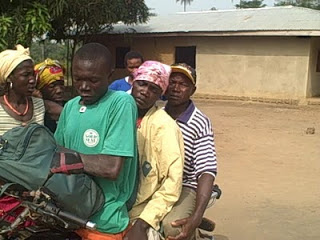 Sheku Turay being taken yesterday to the hospital.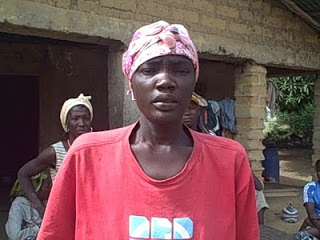 Sheku had deteriorated almost beyond recognition. Here he is the day before he died.
If you are interested in knowing more about the work of EducAid with vulnerable Sierra Leoneans, please go to www.educaid.org.uk