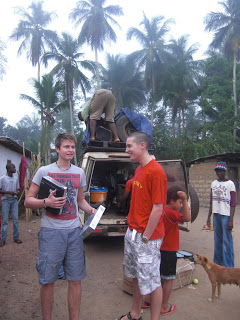 Offloading stuff at Magbeni, a couple of stops before their final destination.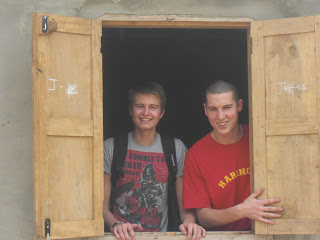 Nervous grins as Max and Charlie move into their new accommodation.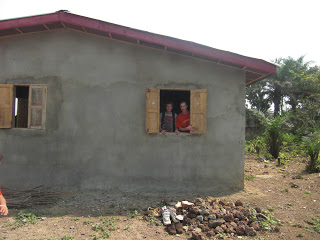 Chez Max and Charlie for the next few months.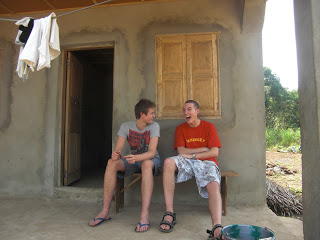 Moved in and working out their next steps.
From the wilds of North London to the wilds of Maforki chiefdom, Port Loko district. Excited? Maybe. Mixed with trepidation? Definitely.
Max, long term fund raiser for EducAid, and his friend Charlie have bitten the bullet and moved out to Rolal for three months of volunteer teaching.
A couple of days and a few football matches later, their teaching timetable [literacy, numeracy and lots of ICT] is in place, they have worked out their budget for the term and made friends with the whole school community. They sound much more at home.
It is quite something to really go out of range of electricity, running water and proper phone or internet coverage, for that length of time, when you've been used to all the usual western creature comforts. We greatly appreciate those who do make this effort and commitment. Their input can be really significant for our youngsters. Max is the latest in a line of youngsters to come from the St James Church community in Muswell Hill. There are two more on their way to Magbeni next week.
Good Luck Max and Charlie. I am sure you will leave having made lots of memorable friendships and we hope that this will be the beginning of many more visits.
If you are interested in knowing more about EducAid's work with vulnerable young Sierra Leoneans, please go to www.educaid.org.uk