As the global media attention begins to tire and to sway on to other more sensational stories, it would be easy for the public to think that Ebola situation has gotten better. Let us be clear, it has not.
Have you seen the BBC piece on Kigbal, a small town 4 hours north of Freetown? Ebola has pillaged the town, with over 15% of the adult population dead and many more dying every day, the BBC describes it as the epicentre of a new surge of Ebola infections.
Our country director, Miriam, was in the same area over the weekend and she experienced even more horrific scenes. Over e-mail, Miriam wrote to me about her experience:
The little children that I was talking to today have lost everyone – both parents and often several siblings – and they are watching each other die one by one. Every day, more die.
Please God; pray that there are some survivors so that we will have a chance to help them. I was talking to them about going to school – what else do you do? What do you say to a kid who is sitting there – maybe about to die – who has, in the last 3 weeks, watched both parents die horribly and then are being kept in the hospital. They are being looked after by Zainab Kamara the 25-year-old woman below, a survivor who has lost her husband and son but who calmly says she is ok now.
I took some photos of the children and showed them – they were quite excited about that. Then we were talking about them going to school, and I showed them a photo of Kofi and so on. The little girl at the bottom is Adamsay and she is feeling better than she was yesterday – but is she going to live?
It is really very sobering, Marcus.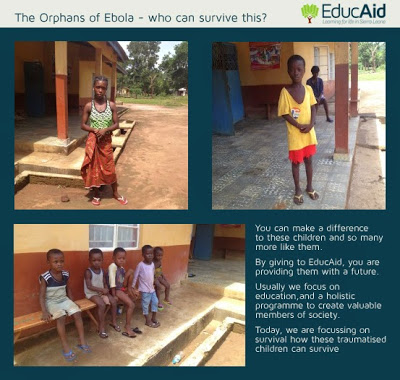 One thing that we would like to note, specifically, is that Miriam has been trained in the best methods of avoiding contagion, and is at all times very cautious with her own manner – not getting too close to those clearly or probably infected.
This puts what we are doing in really sharp focus. There is no time left to think about it, we need your action now to help secure the lives and futures of these traumatised children. When those lucky few walk away from this terrible situation, where will they go? They will come to EducAid, where we will have a loving and caring educational and pastoral environment waiting for them.
If you are a regular donor, please think about increasing your donation to help us through this deeply troubling time. We are delivering change for the most vulnerable children on earth right now – please help us.