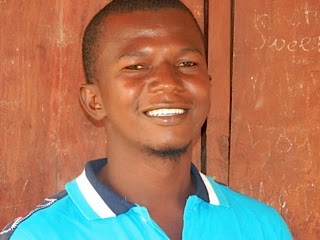 AJ (pictured) & Kai are the site coordinators at
EducAid Magbeni, one of the EducAid schools in the most hard-hit areas of
Sierra Leone, the Port Loko district.
AJ and Kai are responsible for looking after the
students and staff at our school, and for ensuring that security, welfare and
morale are being kept at a maximum. Despite their busy schedules, they took
some time out of their week to respond to my questions and let me know what
they think about what is going on in Sierra Leone.
Just to give you a sense of the threat that lies outside
of the door in Magbeni, here is a map of Ebola cases
published
by the CDC
on 18th November 2014.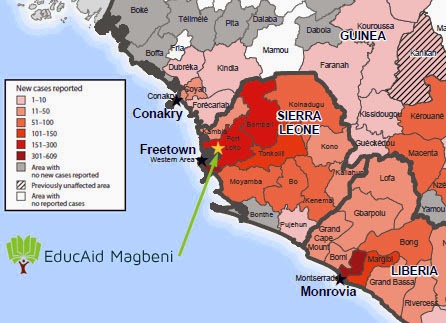 1. What
is the social and political situation in Sierra Leone?
The mood of people in this country is stressful,
sorrowful, panic-ridden, and discouraged. People find it very difficult to
leaves their homes to go elsewhere because the illness has spread evenly
throughout the country. There are many people waiting for the epidemic to
end before regaining back their lives.
The government are doing their best with what is
available in the country. At first it was more a case of talking rather than tackling
Ebola, which was indeed a problem. The main opposition party, the Sierra Leone Peoples
Party [SLPP], was using Ebola as a means of setting the ruling party, the All
Peoples Congress [APC], against its citizens. This happened especially where
the Ebola started in the eastern part of the country, a district called
Kailahun.
The civil unrest in Freetown is a product of the heavy
sanctions that have been placed upon the people. Freetown for now is not how it
used to be before. The social lives of people have been cut off: nightclubs,
cinemas, schools, and colleges have all been closed. Because of all these, the life
of people in the capital city is very worrisome.
Having said that, the general populace now have a
greater confidence in the Ebola treatment centres because of the number of
patients that been discharged. The doctors are doing a fantastic job in this
fight of Ebola, even though other doctors or health workers have died. But they
did not relent at all. The people at first do not believe in their own doctors
especially when the medical people were saying that there is no cure for Ebola.
2. What
do you perceive to be the greatest threat to Sierra Leone's recovery from
Ebola.
After the ebola we are foreseeing more economic hardship
as nothing is currently going on the country rather than the fighting of ebola.
There will be a sever lack of medical doctors because the few we have are
losing their lives to ebola. Simultaneously, there will be more to care for; more
orphans, and the numbers of street children are going to increase. The economic
situation, and the disruption in schooling will lead to more drop outs than before,
as well as more teenage mothers.
3. How
are the students and staff coping with the events going on outside the schools?
The students are really fighting hard to cope with what
is going on; they are missing the interaction with their friends who have not
been able to return to the schools due to the dreadful epidemic that is roaming
the country. They are now beginning to cope with the situation as we are making
them think more about their education, and how we can help the others by being
strong. The students are taking unit tests and also work on setting targets for
themselves. They also work on literacy and even how to sensitive themselves against
the virus – although we don't ever intend that to be something they have to do
at EducAid. It is very difficult for the students to know that their friends
and classmates are living in the towns, cities, and countryside exposed to
Ebola.
Although situations are very different to normal, staff
are really working hard here. We have literacy hours where we teach ourselves
with continuous essay writing, and also material making. We read and review
books together, and help in the sensitisation of the epidemic and prevention
tactics.
4. How
can education help in stopping Ebola?
Education can help greatly in terms of community sensitisation, and to help the country plan best for after Ebola economic hardship. Also, in Africa, diseases can easily spread because people have low knowledge about the diseases, but with education we can make sure to be able to control it quicker in the future.
5. What
are the biggest challenges that EducAid is facing?
The biggest challenges are:
a)
How we can protect both students and staff for Ebola.
b)
Helping on communities sensitisation.
c)
What we can do to protect the orphans of Ebola
d)
Tutoring our stay-at-home girls and boys without
the threat of Ebola, because it is ever more scary!
6. What
do you think is the most important message for us to get out to the people who
support EducAid?
The key messages that they most know are:
a)
Learning is still going on with our home boys
and girls in all the EducAid sites
b)
There is a radio recording team that is also
aiding the teaching of students during Ebola time.
c)
Staff are upgrading the learning materials in
all subjects.
We are trying to prepare ourselves for the fallout of
Ebola. Through our #AfterEbola programme, we are preparing ourselves and our
facilities for the huge influx of Ebola orphans that we will need to care for.
Without these facilities, we are likely to lose a whole
new generation to psychological and social degradation. The financial situation
that is likely to follow Ebola will leave children even more vulnerable and
susceptible.
Please keep supporting us in our fight to prevent Ebola,
and our plan for the future. Together we can make a difference.
Donate to our campaign #AfterEbola now by clicking on
this link
.
We know that Pires' account of living with the threat of
Ebola touched many of you, and to those who donated – thank you so much for
your generosity. If you haven't read the piece,
you can do
so here
.