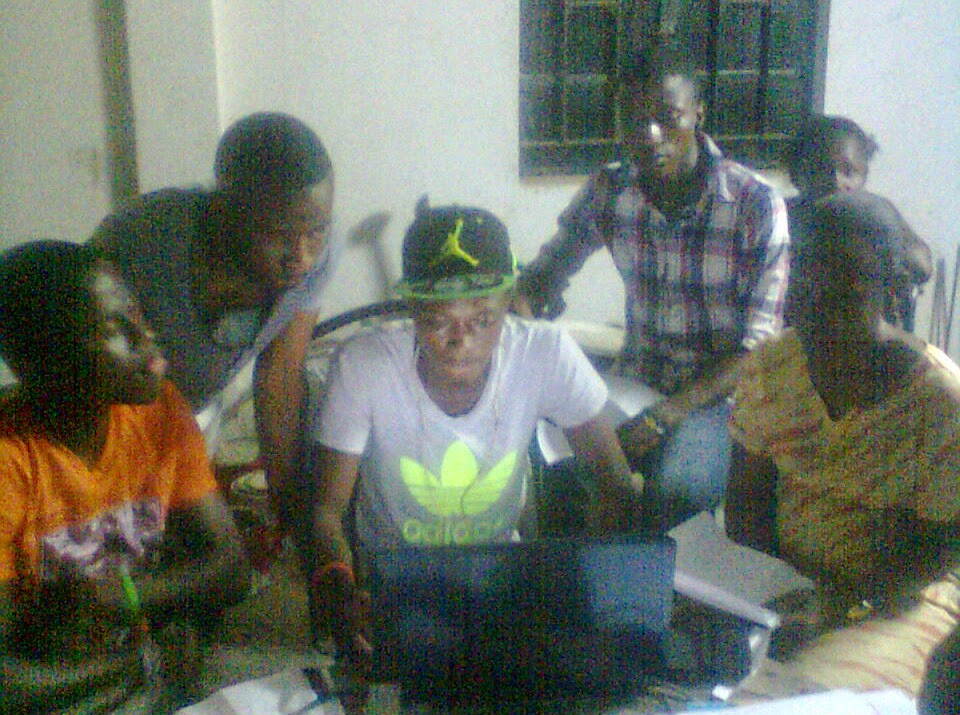 At the beginning of this blog, we set out our 3 stage plan to combat the effects of Ebola on our students, staff, and the wider population as a whole. The first of these phases was to implement protocols to protect our sites from any potential Ebola threat. Now deep in to the worst Ebola outbreak the world has ever seen, we are confident that our measures have effectively combatted this threat. We continue to do our utmost to ensure that these standards are upheld by minimising the movement of students and staff to an absolute minimum, with the former group seldom if ever allowed to leave the site other than for emergency medical treatment.
Phase 2 of our on-going Ebola response programme has been in action for a number of months now. This phase was to ensure that those students not living on our sites, and therefore more vulnerable to the chaos of Ebola, to continue their education. What is sometimes difficult to grasp is quite what an impact EducAid has over our students. We are not a traditional school as you, or I, might consider it. We provide stable holistic support and guidance for our students throughout their lives. Life is difficult for young people in Sierra Leone, no matter what their schooling, and for our day students the gulf between school and home can be a tormenting reality. Fortunately, however, we have always provided the stability to helped these vulnerable and disadvantaged children to continue to tow-the-line, and to embody our values and principles.
As the economic situation in Sierra Leone worsens, the struggle for survival – let alone the battle against Ebola – gets more difficult. As the social situation worsens, one which has seen serious civil unrest in Freetown, the concept of education becomes more and more abstract for our estranged students. For a nation that is still healing the wounds of a recent civil war, where schooling is often at an exclusive premium, communities do not have the integral investment in education. Our main fear for these young people is that the more time they spend away from our supportive community, the further they will slump back in to the older principles of a past generation. Not only this, but the disillusion that these students will feel having lost a whole year of their lives to this indiscriminate and alien virus will discourage them from returning to us at EducAid at all.
Our objective was simple, but the route to achieving it has been hard. We wanted to provide free and easy access for our students to continue their education from home so that they could connect with our school, and to continue on their course to graduation. Soon after the Ebola outbreak, we began to record educational classes – more of an educational discussion panel really.
Earlier on this week, I conducted an interview with Emmanuel Bailay to ask him about the project.
1. What is the process of putting the podcasts together?
There are seven people that are involved in the planning of the podcasts. Miriam and six staff who are in charge of recording and editing. Apart from the recording team, there are three teachers who run the discussion; this includes a leading subject teacher along with two other teachers.
We have two different groups for recording, one in Free Town and one up country. For the up country we do recording at Magbeni, Rogbere, Rolal and Matele.
2. How have you found interesting ways to engage students?
We have some interesting ways of engaging students. In the first place, our recording methods whet the appetite of students for our podcasts. Our recordings are not boring because it is more of discussion among subject teachers. For example, for any recording, there is a leading subject teacher who does the explanation, and the two others will ask questions based on the topic, so at the end of the day, students will get a clear understanding of topics in their respective subject areas.
Our podcasts are quite different from the ministry of education. In our podcasts, time is highly considered. For every lesson, we have a maximum of twenty five to thirty minutes presentation because we don't want it to be boring. The ministry of education have a different method of podcasts. Theirs is more of a teacher led, that is, one individual will talk for an hour or more. Students sometimes lose patience in listening to their programmes because it is boring.
3. How do you distribute the podcasts?
We distribute our podcasts through Bluetooth, Whatsapp, Mobile phones and memory sticks for students to use. Unfortunately we don't have mp3 players, but we distribute five lessons every week. For now, not all EducAid students are benefiting from the podcasts. The home [boarding] students are benefiting on all EducAid sites and few EducAid students within the community. We are trying our best so that majority of EducAid student's and people in the community to benefit from it.
Currently we are reaching 215 home students – on all EducAid sites – and more than 100 people in the community.
4. What is the best outcome of the podcasts?
EducAid students are benefiting greatly from the podcasts because it enables them to have access to learning in time of crisis, and this will lead to a less dropout rate because students are always engaged. It enables them to have access to learning during crisis and to do more academic work. Had it not been the podcast, a lot of students would be drop outs because they will not have access to learning. There will also be an increase of unwanted pregnancy.
For now, some people in the wider community are also benefitting, but we are always trying hard to reach more people.
5. Have you had good feedback from the podcast?
Yes we had good feedback from the podcast. People really appreciate it, and they are hoping it will continue until Ebola is over.
We hope that you can appreciate how important this radio programme is to our students. It provides the vital contact to keep them in touch with their school and their friends. One can only imagine how isolated they must feel, constantly in fear of the deadly virus and locked away from their friends.
Emmanuel and his colleagues are doing a fantastic job, but with around 2,650 EducAid students still not receiving any contact from their school we still have a long way to go. We want to ask you to help us; if you could donate whatever you can spare so that we can continue to do the work that we do in Sierra Leone, we would be so grateful. Just know that not a penny of what you donate will be spent on anything other than the students in Sierra Leone, as all of our UK admin costs are covered directly from the pockets of our trustees.