From the high pitched wailing from the throngs of mourners throughout the day, to the drumming and singing throughout the neighbourhood on the night before his burial, to the enormous crowds that turned up to his actual funeral, it was clear that I was not the only one to have appreciated Alhassan.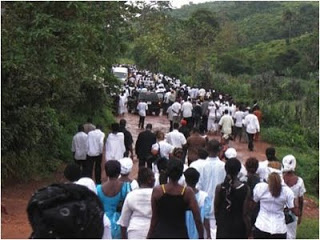 I will not be alone in telling Kofi about the wonderful father he had.
Kofi was somewhat extraordinary for his 4 and a half years. He insisted that he wanted to see Alhassan and say goodbye to him, even if it made him sad to see him cold and not moving. We went alone into the funeral parlour before the others came in to see him. He touched Alhassan and looked at him. 'This isn't Alhassan anymore, is it. He is cold. He is not soft anymore. Will he be able to see me, if I open his eyes?' and so on. Alhassan's local friends held a football and football cup aloft at the head of the procession to the grave. 'Can I have one football and Daddy have one football? Oh, but Daddy won't be able to play football anymore, will he. So, I will play football on my own, won't I now.'
He sobbed and sobbed during the actual funeral, but then calmed down and did some more reasoning. I cannot express what it means to have him to preserve my sanity at this time.
I am equally supported by the staff, students and Alhassan's family. Everyone has been amazing. Helena also came out from London at 24 hours notice, for which I will always be grateful. The messages of support and encouragement have been overwhelming from across the world. Thank you all.
Alhassan will be remembered fondly and with admiration by so many. I will always miss him. I keep forgetting and turning to look for him to tell him something and remembering all over again. It was all so incredibly sudden and is therefore so much harder to believe. 5 days feels like forever. It seems hard to believe too that it won't always hurt like this, but I know that time does heal and Kofi and I [and EducAid] will find a way forward.