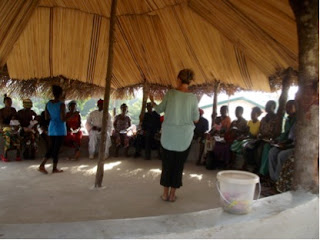 Ann conducting family literacy classes in Maronka.
Ann Beatty, long term supporter and volunteer with EducAid is helping ensure we participate in the Olympic fever at least a little bit.
Nominated for her generous work with EducAid and in particular for setting up the Girls' Safe House in Maronka, instead of pursuing her original plan of swanning off to Latin America to sip cocktails on a beach somewhere (who could possibly have chosen that over the opportunity to work for love in service free Maronka!), Ann is a little nervous about her run tomorrow.
We want to add our voices to the many who will be cheering her on at 11:53 a.m. as she runs through West London and wish her all the very very best and at the same time thank her for all her love, generosity and hard work on our behalf.
(Official photos to follow!)
If you are interested in knowing more about EducAid's work with vulnerable young Sierra Leoneans, please go to www.educaid.org.uk and www.sierraleonegirls.blogspot.com