So….Jimiyke is back with a clean bill of health and very happy to see his friends again here. They were very excited to welcome him home! It has been an amazing experience but at times some serious homesickness. He is back, now, teaching in the IT room while working out his own next steps.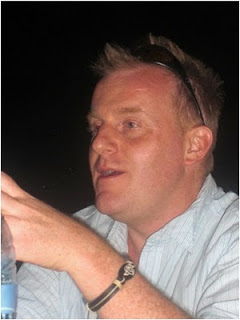 Swithun explains stuff. He likes explaining.
And, Swithun [founder of EducAid and my baby brother] and Adrian Carr [long-term fundraiser and supporter of EducAid] are in town too.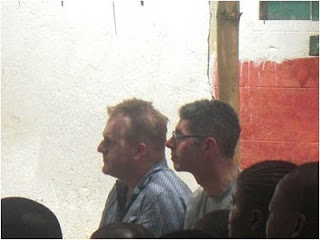 Swithun and Adrian in spectator mode in Magbeni.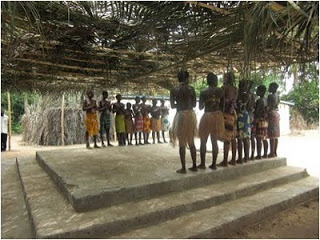 The African Society perform their dance and drama.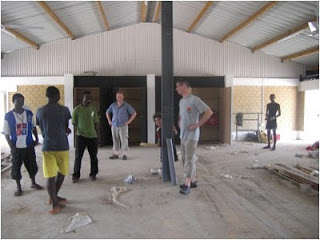 Inside the new Rogbere building. Quite hot so let's hope we can persuade the builders to put a ceiling in!
Happily, Swithun, in his role as the big boss, is not too difficult a task master and he is actually very encouraged by the progress of the project since his last visit 3 and a half years ago. They have been shown everything. They have checked out the new building in Rogbere which EducAid are to be contracted to run as of September. They have observed plays about the White Ribbon Campaign [please see https://www.educaid.org.uk/EducAid_Sierra_Leone/white_Ribbon_Campaign.html], an international campaign of men against violence against women, about girls' education about social studies, the African Society and more. They have been questioned and quizzed by staff and students and the Maronka community as a whole but seem to be bearing up well.
There are always the positives but life in Sierra Leone is rarely unadulterated positive. Swithun and Adrian have been faced with some of the harsher realities of living and working with the sort of war affected, vulnerable youth who make up the EducAid beneficiaries. There have been threatened stabbings of teachers and students. There have been thefts and so on.
However, the big things Swithun keeps on talking about are firstly, the strength of the leadership team and how very important that is because it means the project is not too Miriam dependent! [I will shortly be completely surplus to requirement : )] And, the second big difference since last visit has been the significant increase in female students. Last time there were 6 girls in Magbeni and 12 in Rolal. This time there are over 60 girls in Magbeni and over 100 in Rolal. The Women's Project is clearly achieving its aim. This is a massive step forward in terms of addressing poverty which is so clearly the underlying reason for everything we do.
If you are interested in knowing more about EducAid's work, please go to www.educaid.org.uk