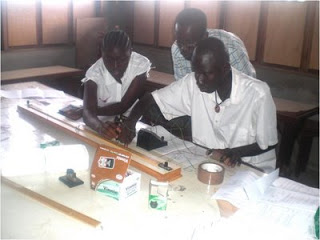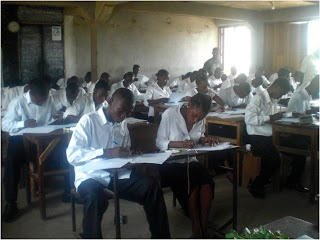 Often I am asked what our students do after leaving school and if they can get jobs.  I always answer that we are able to help a few get sponsorship and that some find work but that whatever they go on to we have at least helped open some doors for them and also they are able to be thinking contributing citizens in a way they were unable to without education.  I mean every word of this answer but it seems increasingly glib when we look at the reality on the ground however.
Two weeks ago our senior students finished their final senior secondary exams.  Some packed their bags and headed for home as they put their pens down [we insist on everyone living in for the period of the exams and the preceding few weeks to assist with intensive preparation!]. There is a significant number though who have had to be almost forced out.  
The youngsters originating in our up-country Junior Secondary schools have left the Freetown school and have gone straight to their old teachers pleading to be taken on as volunteer junior teachers.  A good number from Freetown are displaying the same reluctance to leave too.
Thinking back to my ecstasy on finishing school and how I did not darken their doors for literally twenty years, this leaves me feeling very depressed on their behalf.
We do succeed in getting tertiary sponsorship for a number of our really soundest students but the numbers wanting this sort of assistance only increase, as is to be expected.  We hope that the new distance Higher Teachers Certificate course that Sean and I are managing the writing of will be a good and reasonably affordable solution for a good number but what of the rest???
I came to Sierra Leone to run a Junior Secondary School.  When our first students passed their JSS exams and moved on to Senior Secondary we found the provision so poor that we quickly concluded the only sensible thing to do was to find a way of providing Senior Secondary Schooling too.  So, what now?  Start our own college?  Probably not! But we must urgently find ways of getting additional funding [our school funding is already under serious threat due to the financial climate and the state of the pound] to fund sponsorship at college and university for as many as we possibly can.