Transparency International published their statistics on bribery, this week:http://www.bbc.co.uk/news/business-23231318
Sierra Leone is head of the league once more. And this time it is for the highest percentage of the population that has paid bribes for goods and services. In Sierra Leone 84% of the population has paid a bribe in the last year.
When discussing with people, even intelligent, kind, apparently good people, there seems little clear thinking about what is acceptable and what is not and even less of the possibility of staying clear of corruption as an individual. It is expected that people will give a little something to smooth their way. It is expected that you will help your family and friends get jobs when you are in recruitment positions. It is expected that you will 'use' your position to sort yourself out. Siaka Stevens' 'Wherever you tie a cow, that is where he will eat' idea is still tying us into habits which are fundamentally corrupt.
The role models for straight forward, upright living with integrity are few and far between.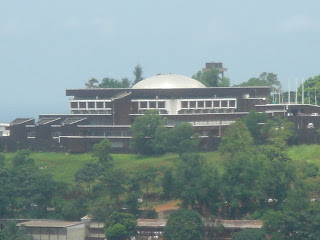 Parliament Building, Freetown.
At EducAid, we put a lot of time and energy into stressing the importance of integrity, honesty and love. Our Augustinian motto: 'Love and Do as you will' is used as a frequent reminder. If we love, then we will want to do all the right things. It is impossible to truly love someone and cheat them or love someone and lie to them. Our youngsters are very proud of having different values and want to be part of the much needed change in the country. However, when they get out into the big bad world, the challenges are enormous: lecturers telling them blatantly that they need to pay up if they want to pass; colleagues who treat them as idiots if they are not ready to cooperate with a little cooking of the books; girls who are put under pressure to sleep with their bosses or lecturers in order to progress and so on and so on.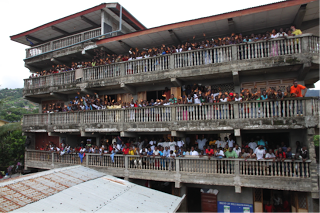 EducAid building, Freetown. If the inspiration
for change doesn't come from the political leaders,
maybe we can ensure it comes from the youth leaders.
To support all committed EducAid past pupils, a group of them have decided to run an EducAidian Professionals Integrity Conference in October. The idea will be to think together about what living and working with integrity looks like; about the real life costs of corruption and most importantly how we can support each other to hold on to the values gained in the EducAid schools but not so easy to find elsewhere. We will establish a support network and a charter to be signed by the end of the day so we can commit to working well and with integrity and so be part of a revolution in attitudes that is so needed.
If you are interested in knowing more about EducAid's work with vulnerable young Sierra Leoneans, please go to www.educaid.org.uk and www.sierraleonegirls@blogspot.com