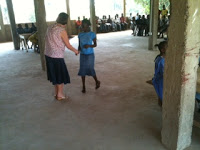 While most of the retired western world hit the golf course or do lunch, Delia and Jonathon Kay hit the trail to Sierra Leone. They spent a full year working in the newly founded Catholic University of Makeni (for more information go to https://www.educaid.org.uk/unimak-looking-good-3/
Not satisfied with helping with teaching and training, they have now returned to the UK where they fund raise for their project. Amazingly, they still find time, energy and capacity to sponsor two other projects in Makeni and last year donated a very generous £25,000 to EducAid for us to build the new Rolal Teacher Training Centre, for which we are extremely grateful.
This week they came to EducAid for the first time, slept in Maronka and visited Rolal where there was an inter-primary quiz competition hosted by EducAid Rolal and organised by the EducAid Junior Staff, headed up by Ibrahim Bai Bundu. It was a great initiative and much fun was had by all. The Maronka class 4 and 5 students did us proud and took the prize but the team from The Practising School were pleased to be runners up.
We wish Delia and Jonathon all the very best for what is left of their visit in Sierra Leone and look forward to seeing them again soon.
If you are interested in knowing more about EducAid's work with vulnerable young Sierra Leoneans, please go to www.educaid.org.uk and www.sierraleonegirls.blogspot.com