Jimiyke in serious discomfort in the Connaught hospital, almost certainly due to the misjudgement of the doctors who took care of him in Freetown last year; picking up the pieces after Macsud's death last week – e.g. checking on little 'Hip-Hop' who was with him when he died and who suffers equally from sickle cell himself; a fire due to bad electrical connections at the Magbeni school….and all this alongside two big celebrations.
It seems to me that this must be key to the extraordinary spirit of resilience here in Sierra Leone. Right along with all the disasters – the hardest you can imagine – there is still an ability to celebrate the good and recognise opportunities for hope.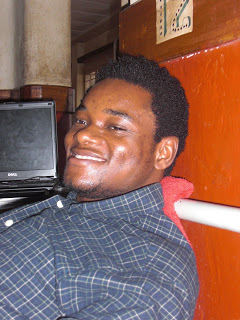 Jimiyke – in hospital but in good spirits despite his discomfort.
Jimiyke has had a really tough 18 months, having nearly died of probable TB last year, and having been treated with only half the treatment [good old Sierra Leonean doctors!] he has had a serious relapse and with an abscess putting pressure on his spinal cord, has had partial loss of the use of his legs. He is in hospital again and back on the TB drugs which are expected to have an impact on his legs in the next couple of weeks. The Connaught Hospital is the most depressing place imaginable, though. He has seen 4 men die in his ward since he was admitted 10 days ago.
Young Macsud, who died 2 weeks ago.
Macsud's friends and family are obviously still very conscious of his loss 2 weeks ago and the complete futility of his death at such a young age but they battle on with their own lives and commit to continuing his fight for progress and against corruption in his name.
Magbeni nearly lost their entire building due to some sparks from a bad electrical connection in the store, on a bag of charcoal with drops of fuel all around!! Two bikes were lost but not a lot else, thanks to the immediate action of the staff team and students when they realised there was a problem.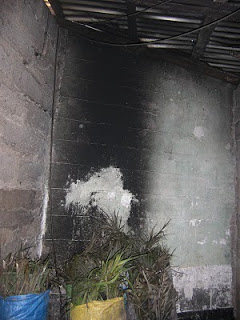 Might not look that bad now but I think we were very lucky it was not a lot worse, and it would have been if it had been left any longer.
And amongst all of this, EducAid celebrated its 10th birthday and opened a new school!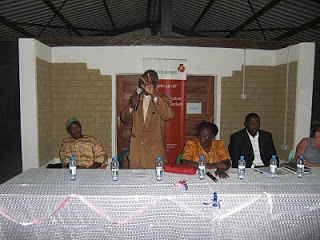 EducAid has been contracted to run a school near Waterloo for 'A Call to Business' in Rogbere.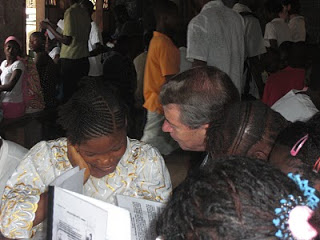 The British High Commissioner attending the EducAid 10th birthday Open Day and talking to some of the group 2+ students.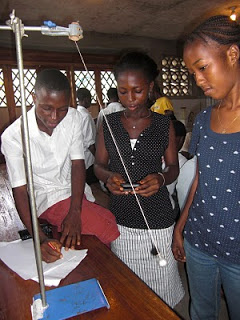 The science students displaying their investigating abilities during the Open Day.