The differences in cultures is nowhere easier to see, between Europe and Africa, than in the bereavement process. To my mind a significant contributor to many families' poverty is the amount of money that has to be spent on burying the dead in order to avoid 'bad name', and to avoid losing the dead person's blessing and so on and so on. The funeral is a big deal. The 7 days ceremony is a smaller deal, but resources go, and the 40 days ceremony is another big one. Tomorrow will be the 40 days ceremony for Alhassan – more food, more money!
Today again, was a memorial football gala, held by the local football youth, Alhassan's friends. EducAid contributed a team which came in 2nd. It was very interesting that there were those who wanted to put pressure, on the referee, in order to ensure that we won, in Alhassan's honour. In what way do we honour him, if we reinforce the corrupt, unjust thinking and practices that effectively killed him? More people die daily here of poverty and corruption than ever died during the war. What these young people are prepared to do to win football, they will not hesitate to do later on in life or in public office in the future. If we wish to honour Alhassan's memory, we must encourage them to think in new ways or everything we are fighting for, in terms of education towards an equal playing field between the rich and the poor, is all completely in vain. I did make that point when I was asked to speak after the match!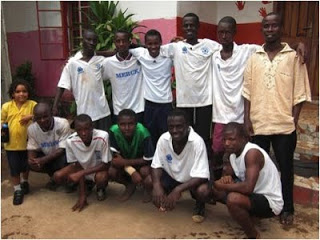 The EducAid team.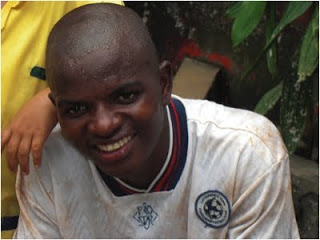 The goal scorer – Joseph Kallon [Karishma]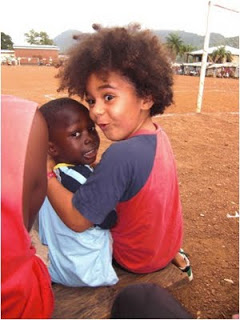 Pa Foday and Kofi, spectators, clowning around at the final.
For more information see www.educaid.org.uk