Today, the family held the 40 days' ceremony for Alhassan. Lots of money was spent on lots of food and lots of people came and said some prayers and then ate lots. The family and friends came from near and far once more. I struggle to find much meaning in the whole thing.
More meaningful, by far, were the conversations I had with Kofi before he dropped off to sleep. He has been trying to think of ways of getting up to the sky to get Alhassan's spirit back, over the last couple of days, which is more than heart-breaking. Just as it has been when he has been telling me how lucky I am that he did not go in the car that day, with Alhassan, as he would have died too and then it would just be me left.
Today, he cried for Alhassan, for the first time since the funeral. He has continued with questions all the time and had accepted that he will not see Alhassan until the end of the world. Today though, suddenly, he twigged that the end of the world is a long long time away. Then, as we cried together, he looked at me and told me not to worry, dried his eyes, dried mine and moved on to other things. I look at him and am so sad that Alhassan is not here to share how he is growing and learning and feel the terrible injustice that he has no father as he grows up and then I look around again and everywhere I turn, in the school, there are stories considerably more difficult than ours.
We interviewed a handful of our youngsters yesterday, for the BBC, about the impact of the conflict on their education. Only one of them had both parents and some didn't even know whether their parents were alive or dead as they have had no contact since the 1990s when the rebel attacks separated them. For each of them, though, education was the way forward. The resilience here is amazing. I hope, though, that it will be spur to more than just deadening acceptance of whatever gets thrown at them. I hope that the resilience will become the strength to stand up to corruption and fight for a Sierra Leone where that is not the standard fare for so many youngsters.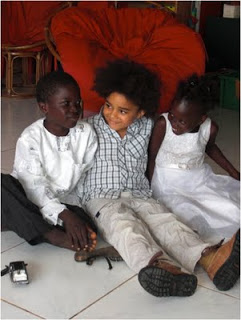 The cousins in their Sunday best for the ceremony.