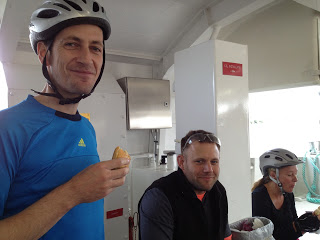 Quick munch while resting on the ferry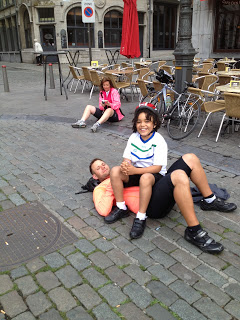 Not quite sure what Alex did to deserve that!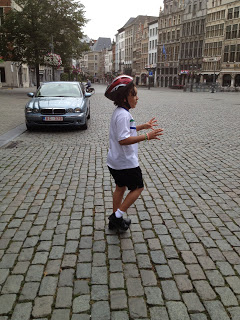 One excited small person
having finished his 17 miles on the last day
A fair bit of pain and some very sore muscles later, the EducAid team were very pleased to say that they did it!!!!
240 miles in 3 days, going from Hoek van Holland via Amsterdam to Brussels was indeed quite a feat but the team spirit, plentiful supplies of flapjack and determination of one and all meant everyone completed in time to enjoy beers in the sun before hopping on the Eurotunnel!
The total for the fundraising is still coming in but we are well over the £10,000 mark with ten people cycling so thank you all who cycled and thank you all who sponsored. Greatly appreciated and coming in at a time when every penny is invaluable. With the global financial situation deteriorating on the one hand and EducAid's excellent results on the other has come ever increasing pressure from needy youth. The schools are full to overflowing.
If you meant to donate and have not got round to it, it is not late yet! You can still follow the link and make your contribution…. Thank you in advance.
If you are interested in knowing more about EducAid's work with vulnerable young Sierra Leoneans, please go to www.educaid.org.uk and www.sierraleonegirls.blogspot.com