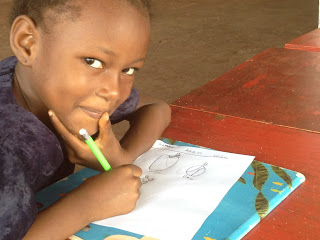 Linda – very studious.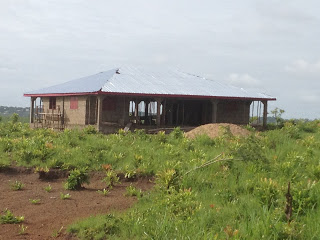 Maronka teacher training centre – the roof is going on.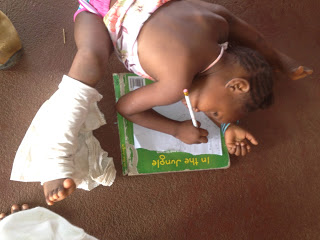 Miriam Mansaray on a Sunday morning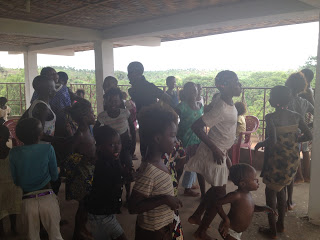 Day of the African Child and our Maronka African children are shaking their stuff : )
There are people doing triathlons in Devon and cycling across Asia among other antics on behalf of EducAid. There are two young volunteers fresh from teacher training in Lincoln, a talented school friend and a business minded young man from Oxford all contributing their expertise, time and energy to boost various aspects of EducAid's work in Sierra Leone. The UK based EducAid family continues to support generously in so many ways, financially as well as with donations and contributions in kind.
In response, the Sierra Leone based EducAid family have not been sleeping: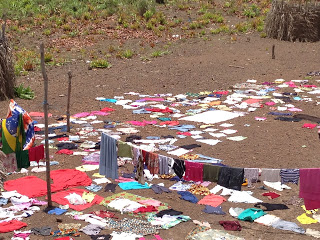 Laundry day in Maronka!
The Secondary level teacher training 'Quality
Enhancement Programme' that operates in Rolal with 12 partner schools from
rural Port Loko district is concluding for the year after running courses
in 6 key subjects to community and untrained teachers and an exciting
behaviour management day for the principals.
The Primary level teacher training centre has a 90%
complete roof on it and is due to be ready for a September start.

The Deputy Director of Education
speaking to the assembled partner principals
from the Teacher Training programme

The Leadership Team are increasingly strong in their
management of the schools. The students are setting ever higher
standards for themselves and each other.
The Magbeni School was one of eight winning teams in the
Innovate Salone competition being awarded $500 to go and implement their
agriculture food security project.
The community service programme by which all EducAid
students give two weeks a year, continues to inculcate the spirit of
service.
The literacy and 'holistic' activities continue to
ensure our students are among the best educated in the country.
The girls house is providing wonderful care for the girl
pupils at Maronka.
Isata, YahYah, YahYah A, Musa, Tee, Bai Bundu and
Sumaila are starting tertiary studies in September, thanks to UK sponsors.

Mabinty, Mealo and Bockarie will be completing their
degrees in the next couple of months.
20 junior staff will finish their teacher training course
in the autumn.
A dozen new junior staff are being recruited to join the
support teaching staff this week, having finished their senior secondary
studies.

Rolal students on their way to the 16th June
(Day of the Afrian Child)
celebrations in Port Loko.

The Maronka primary school kids are learning about and dramatising their understanding of their rights and responsibilities (videos to be uploaded when one of us gets near a decent internet connection!)
….. and so on ….
The battle continues. There is so much to be done and funding issues continue to plague us but we are excited about the future and all it holds for EducAid and for the country.
If you are interested in knowing more about EducAid's work with vulnerable young Sierra Leoneans, please go to www.educaid.org.uk and www.sierraleonegirls.blogspot.com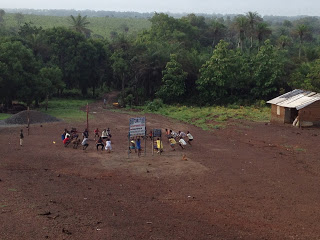 Maronka footballers doing their fitness training