From time to time, people hear of EducAid's work and volunteer to come over and help out for a period. We have had a few youngsters nearing the end of their formal education and now a small number of teachers at the other end of their careers.
Pat Payton, retired as a chemistry teacher from a specialist dyslexia college in Devon and is now on her third visit. She has done wonders in moving on the Women's Project literacy and numeracy teaching as well as doing significant work with the science department.
Ken Hall, my mentor from my NQT [Newly Qualified Teacher] days, has recently retired from Biology teaching in Hertfordshire and is doing his first stint in Sierra Leone at the moment. We hope it will be the first of many! He has been working with Pat on teacher development and learning materials production within the science department but has been recruited my many other staff and students into helping out with plenty of other aspects of IT, science, exam preparation etc around the school.
Sean Higgins interrupted his career in South London and has been with EducAid on and off for the best part of 3 years. He works on staff development mostly as well as a life skills programme that he has put in place for the senior students and is having an invaluable input to the production of thinking learning materials.
EducAid derives great benefits from all of these visits and we are extremely appreciative of the time, money and energy that all these folks are providing. It has to be said, it would be hard to find terms and conditions equal to theirs: very hard work for long hours, hot and sweaty working environment, pay your own way and enjoy the additional benefits of an extremely limited diet of rice and more rice + spicy sauce and the frequent company of a wide variety of unwanted insect life. They can however be sure that their efforts will not go in vain and that they are making a fantastic difference to the youngsters for whom they work.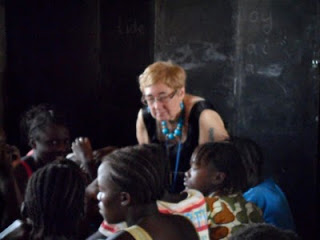 Pat working with the Women's Project, supervising some phonics training.
Sean teaching Life Skills on a Saturday morning.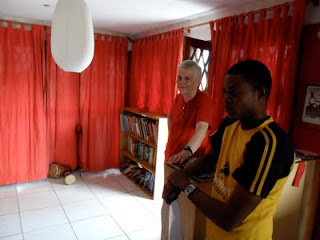 Ken supervising the 'Biologists' club session.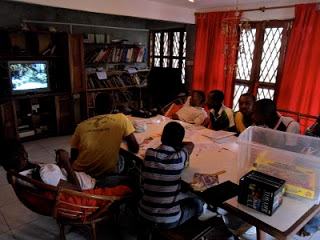 The biologists watching a section of David Attenborough's 'Life' series in the library.
If you are interested in knowing more about EducAid's work in Sierra Leone, please go to www.educaid.org.uk