Gala & Auction
Our Gala and Auction is our first fundraising event of this kind. The Salone-inspired evening will include a 3-course meal, accompanied by a selection of wines and Sierra Leonean music. Propelled by the sounds and tastes of Sierra Leone, it will be the perfect evening to introduce your friends to our work and even to meet some new ones. Throughout the evening you'll have the opportunity to bag yourself some great auction lots, all the while raising crucial funds to support our work in Sierra Leone.
The evening will be held in East London's impressive Round Chapel on 23rd March, which will provide an elegant setting for what will be an extraordinary evening.

Silent Auction
The time has come – our silent auction site is now live! If you're not able to join us on the 23rd March for our Gala and Auction, you won't miss out on all the action. We've curated a selection of auction items that we think will get everyone excited. From weekend breaks to designer bags, hot air balloon rides to work experience with EducAid, there should be something to tickle everyone's fancy.
Of course, to have a chance to win the best prizes, you should come and join us on the 23rd to experience the full glamour of the EducAid Gala.

Challenge Events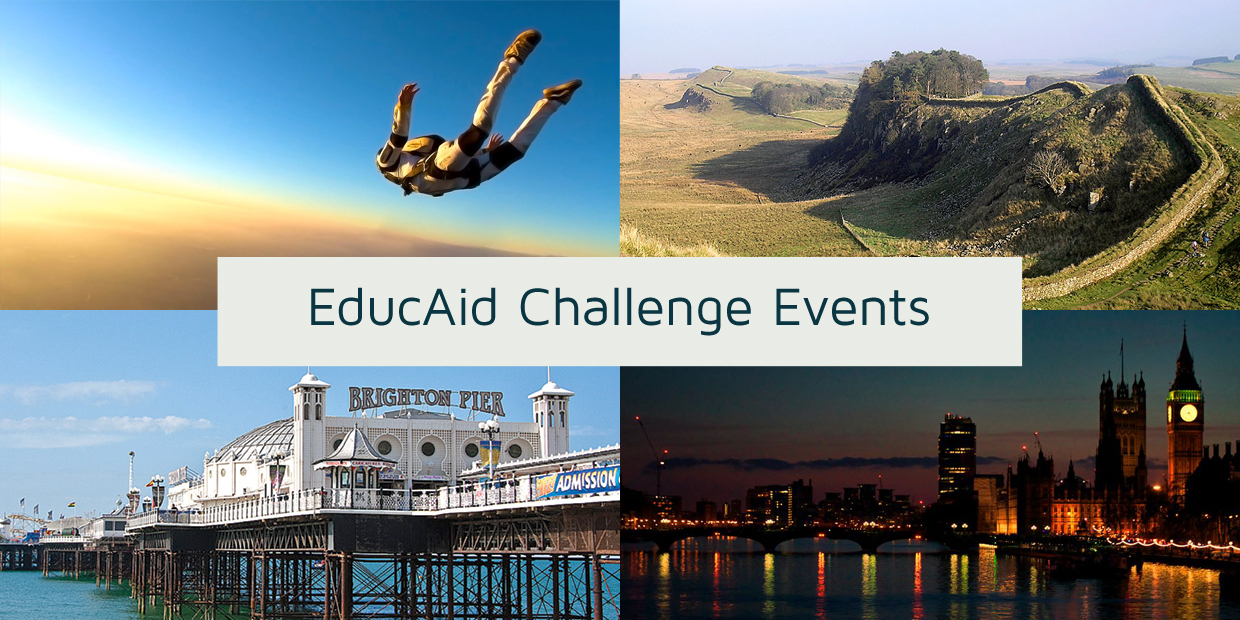 In 2017 we are running a number of challenge events. These events are organised for all of our community, friends and families, to get together and enjoy a fun day or night out and to raise money and awareness for EducAid. We have curated a selection of events that we hope will interest all different types of people; from walking to skydiving. Each of our events will be an inspiring and enjoyable experience for all.
Movie Night with the Marple Band
Stockport Grammar School are putting on an evening of events on 7th April. The school has organised for The Marple Band, a traditional brass band whose engagements are aimed at entertaining audiences, mostly in charity work and fundraising, to play music from a whole bunch of family favourite films. This includes Indiana Jones, Batman, James Bond and Star Wars!
Stockport Grammar has been a long-term supporter of EducAid, and regularly raises a lot of funds to help support our work in Sierra Leone. Thank you to everyone at the school, and for anyone in the Stockport area make sure to get down and enjoy what is sure to be a fantastic evening.

A little bit about EducAid
EducAid runs an educational network comprising of free schools, teacher training, and tertiary programmes in Sierra Leone. We provide distinctive, personalised, top-quality, holistic education and support to vulnerable young Sierra Leoneans.
We are a UK registered charity which believes that the education of young men and women is essential to: unlock human potential, overcome poverty, improve wellbeing, build democracy, and that it is the cornerstone of stable development. Our vision is a democratic, dignified and prosperous Sierra Leone, where poverty is eliminated by educated citizens who are able to develop their personal, social and economic wellbeing.
EducAid builds on the foundation of quality education in an environment of equality. In a country where gender equality is so disproportionately biased against women, we ensure that our pupils are treated identically, no matter their gender.
EducAid is unique in Sierra Leone in that it aims to empower Sierra Leoneans to build a better future for themselves, from the bottom up.
EducAid starts with the future – the children.
A new school, Pate Bana Marank.