Sierra Leone is one of the most challenging countries in the world to be a girl, ranked 162 out of 170 countries on the 2021 UNDP's Gender Inequality Index. Sexual Gender-Based Violence (SGBV) is also commonplace with 9/10 girls affected (UNICEF:2019) in the country and corporal punishment and violence in schools is widespread.  More than half of the population in Sierra Leone lives below the poverty line and many girls and young women still unable to access or continue their education.
Why do we work on gender equality?
1.     To fight poverty - When women have access to jobs and financial resources, they can better support themselves and their families, reducing the overall poverty level in communities.
2.     To improve health and well-being - By challenging harmful gender norms and attitudes, we can reduce gender-based violence, improve access to healthcare, and promote overall well-being, leading to healthier and happier communities.
3.     To build social justice - Gender equality is a fundamental principle of social justice. It ensures that all individuals, regardless of their gender identity, have the same rights and opportunities. This fosters a fair and just society where everyone can thrive.
Our gender equality work is not just a matter of fairness. By striving for gender equality, we create a more just, equitable, and inclusive world for everyone.
EducAid works to ensure schools are the safest place for girls, working with students, staff and communities to combat inequality and gender based violence so that girls' can realise their true potential.
Our programmes work with girls, women, men and boys across all levels of society. We train students, school leaders and teaching staff, work in hand with communities and other local organisations in order to build a stronger and more equal future for all.
Find out more on our gender equality work below, after what our students have to say:
"At EducAid we are building our self confidence, and learning our rights.. The sessions teach us about kindness and sisterhood…  they promote leadership, public speaking and improve our vocabulary.. They teach us too how to be a role model" 
Strong Girl Incubator Students 2022
"We are very happy to be part of the fight to stop FGM in our country, and improve gender equality. We are the next generation of strong women"
EducAid Lumley Secondary Student's 2022 - at participation in an anti FGM protest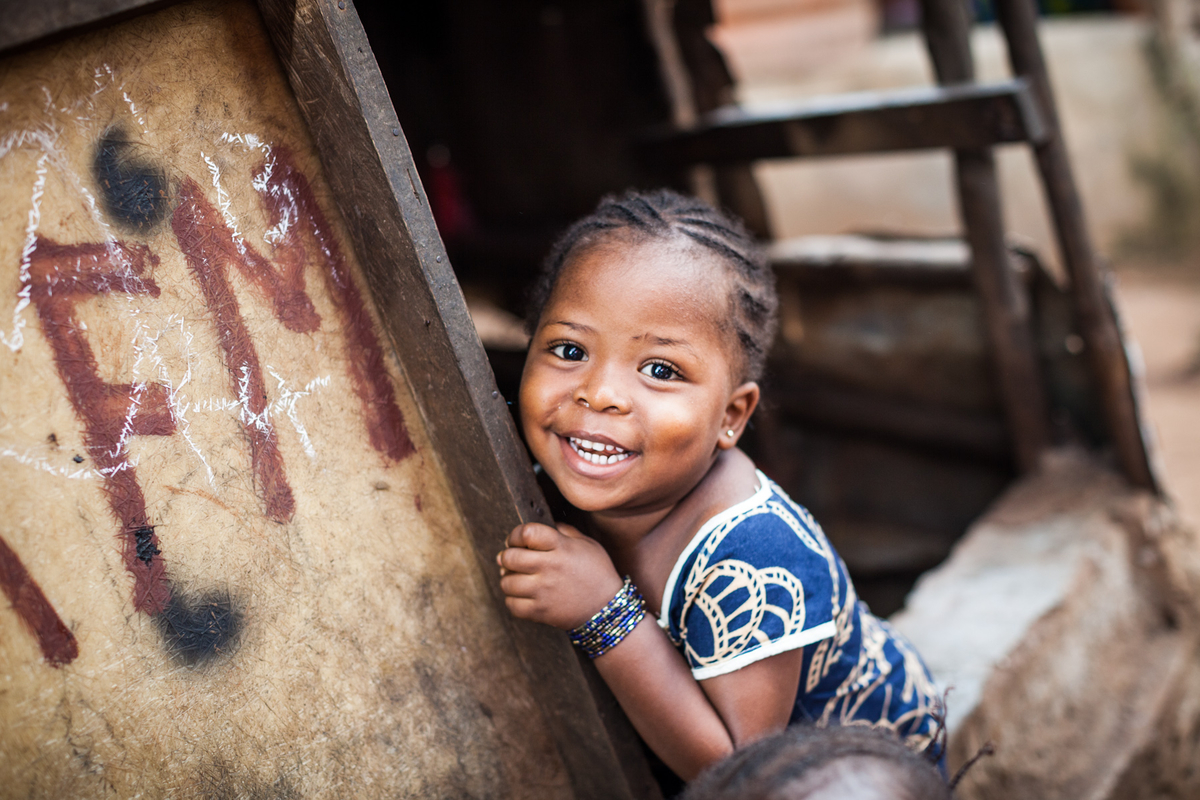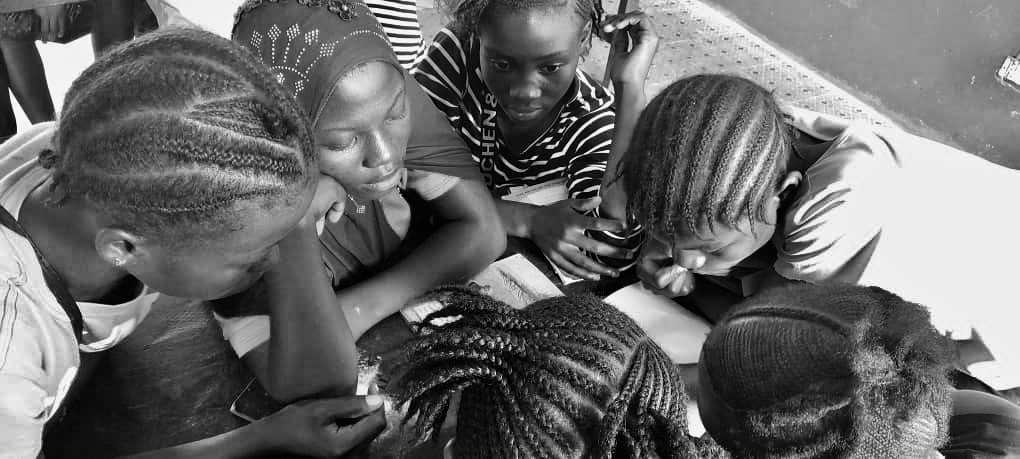 EducAid works to ensure the safe participation of all girls and young women in education. In our 5 model schools we work towards gender equality starting with gender parity in enrolment, attendance and educational outcomes, and supporting girls to achieve in education and beyond. 
Through our Every Voice Counts approach we ensure that all our students and teachers can contribute to decisions  concerning their well-being and education.
Our schools are also more than a place of learning; providing a safe home for vulnerable students. Our residential facility at EducAid's Maronka primary school - The Maronka Girls' Safe House - works to not only keep girls in school and safe, but also works to build their confidence before adolescence through creating support networks and running specialised empowerment workshops.
The Strong Girl Incubator (SGI)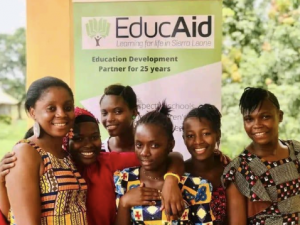 EducAid's Strong Girl Incubator (SGI) project provides girls and young women who are vulnerable to dropping out of school with the knowledge, skills and confidence they need to successfully join mainstream secondary education. The SGI is an accelerated learning programme that also includes mentoring and peer support. In addition to the academic work that begins with basic literacy and numeracy before progressing to mathematics, language and arts, participants enjoy workshops, sisterhood circles and other activities designed to create support networks, to increase self- esteem, and to build resilience. The SGI provides a safe, judgement-free space for girls to learn together, creating a built-in support network led by female role models. Working with some of the most vulnerable women in Sierra Leone, the project also removes other barriers by providing shelter, hygiene supplies, school materials and other necessities when needed.
These deliverables lead girls and young women to build a stronger and more equal future for themselves and their communities. With mentoring and peer support to increase self-esteem and build resilience, girls and young women form connections and create shared values surrounding their common mission; to overcome poverty through education.
We expect 70% of SGI students to successfully return to mainstream education within 1 year and to enjoy and display increased confidence and take on leadership roles within school, participating fully in meetings and in class.

Last year the project achievements exceeded expectations as 48 out of 50 (96%) of girls and young women enrolled in the SGI successfully transitioned to mainstream secondary education. Qualitative data collected from interviews with students and teachers show that the SGI has a remarkable impact on positive social behavioural change among its beneficiaries. After a few weeks of participation, most girls and young women display increased self-awareness and improved relational and communication skills.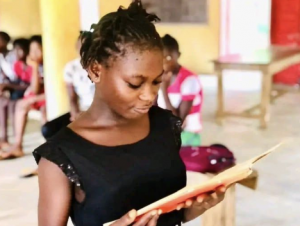 Girl Power Group
In all our schools we organise Girl Power Groups (GPG) where girls and young women can discuss and learn more about their rights. A GPG is a space to talk about gender-related topics, violence prevention and empowerment. Strong female role models from local communities (and afar!) are invited as speakers to talk with students on various subjects, offering guidance and inspiration on how to achieve their dreams. The sessions also offer female students the opportunity to talk about the issues affecting them in their lives, and work together to find solutions to their problems.
GPG sessions are held every Thursday.
See the following video where some of our GPG female students speak about self esteem (in a song cover!)
The White Ribbon Campaign
Working to stop gender-based violence and to improve equality needs action and participation from both men and women. The WRC sessions (pictured here at our Rolal school) are held every Thursday.
WRC sessions are a place for boys and young men to discuss issues of equality and how they can help to end gender-based violence and be equality champions for girls and women...  These sessions help men and boys to promote gender equality, healthy relationships and transform social norms.
By engaging with men and boys, the sessions challenge unequal behavior and promote cultural change that encompasses equality and says no to violence against women and girls.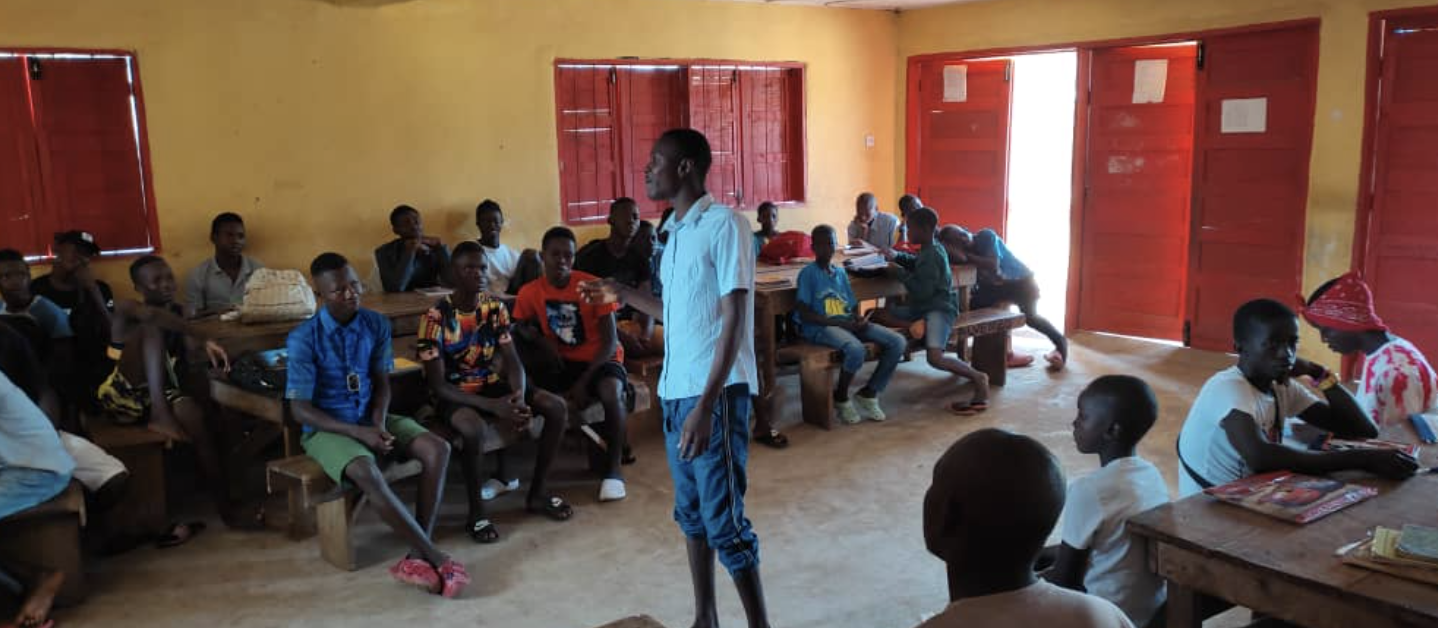 Sharing our best practices - delivering high-profile school improvement programmes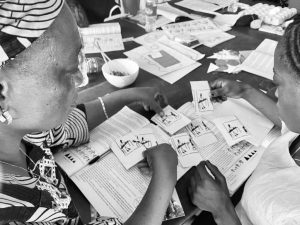 EducAid has over 25 years of experience in managing and delivering sustainable education programmes in Sierra Leone, from small-scale interventions in remote villages, to large multi-year school improvement programmes such as the EU-funded QEP4E and the Sierra Leone Education Innovation Challenge. Through these we ensure that the very best practices in equality work are delivered and shared widely throughout the country.
   

Alumni network 
The EducAid's Alumni Network (EAN) provides career guidance and facilitates access to job opportunities for its members. EAN also supports current EducAid students with mentoring and sponsorships. EAN is committed to offer equitable opportunities to its members and beneficiaries, and to ensure its leadership is inclusive and women's voices are heard. 
   

BAM
Our Business Administration & Management Course is run in partnership with the University of Makeni. EducAid has established key partnerships to support talented women to attend the BAM and obtain their degree.
   

Our commitment to the professional development of our staff: focus on building skills beyond the traditional gender roles.
Most of EducAid's staff are former EducAid students - 89% of our staff this year are past students. We recognise talent and effort and invest in our students and staff promoting growth, adaptability, engagement, and innovation. Our challenge is now to further invest in building the capacity of our female staff beyond the traditional gender roles, for example by providing them with motorbike riding skills to access a variety of field positions that are traditionally fulfilled by men.
Our Equality Coordinator
Zainab Bangura